Bracelet (Cuff Style) - "Yellow Daisies Meets Metal"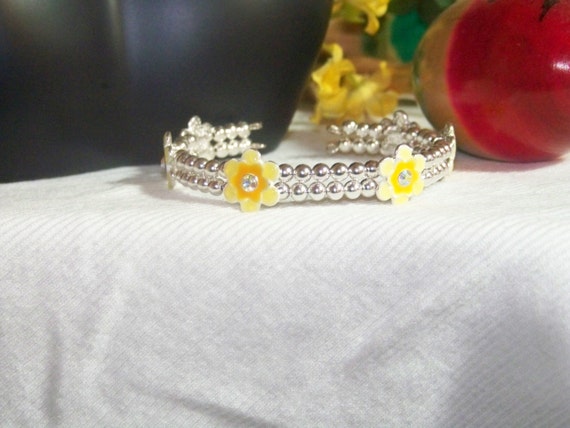 Yellow Daisies Meets Metal" is a 2 strand memory wire bracelet. What is really nice about these types of bracelets is that they fit a range of wrist sizes (7-8+) comfortably.
This open ended bracelet pairs Yellow Enamel Flower beads with Silver plated 4mm smooth rounds on Silver Plated memory wire that has been curled at the ends. The yellow metal daisies give this bracelet a bit of a vintage feel. I have added a magnetic silver clasp to ensure it will stay in place & not be lost easily.
It is easy to put on and remove, but will stay in place for normal activities. (Not intended for intense physical activity, such as sporting events.) All jewelry contains small parts. Parental discretion is advised.