Bracelet - Jasper (Natural) Tiles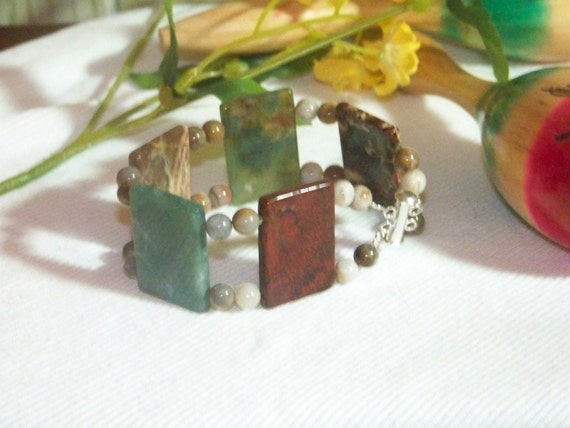 This bracelet measures 7 1/2 inches and is 1 1/4 inches in thickness. There are 5 beautiful Jasper tiles in a mixture of colors from browns, reds & greens. These tiles are paired with Jasper rounds and finished with a silver plated sliding clasp. I have left a little room in this bracelet so when worn it will have the flexibility needed to not strain the wire & cause breakage.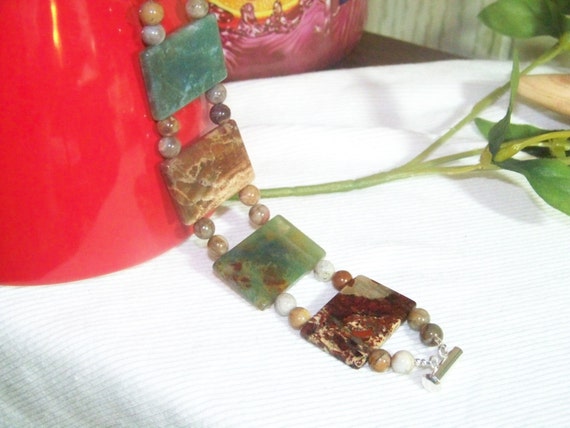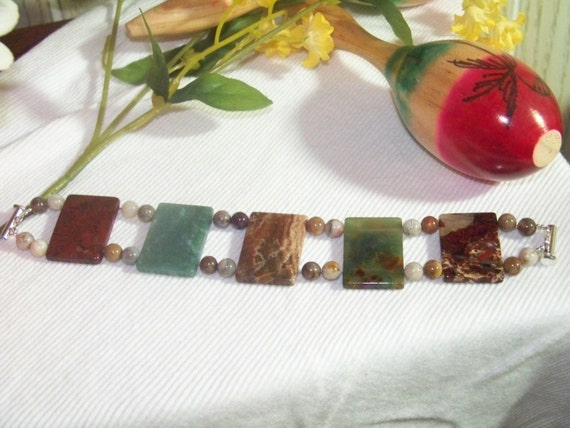 Want to know a little more about this beautiful stone: Jasper is found in Australia, Brazil, Canada, Egypt, India, Kazakhstan, Madagascar, Russia, Uruguay and the United States.
The meaning of jasper stone is in the essence of its energy. Jasper is a very nourishing, warm and protective stone no matter what color you find the jasper in - be it yellow, green, blue, purple or the deep earthy red. Jasper comes in a variety of colors.
Jasper is protective. It can align all the chakras and balance yin yang energies, it is stabilizing and healing. The deeply nourishing, earthy jasper stone was used for thousands of years in many cultures around the world it is definitely good feng shui to wear jasper as jewelry.
The healing powers of gems remain a controversial issue, but are mentioned for centuries by healers, shamans and medicine men. The safest approach is to wear the gemstone in skin contact to the troubled part of the body.