Memory Wire Bracelet - Obsidian & Silver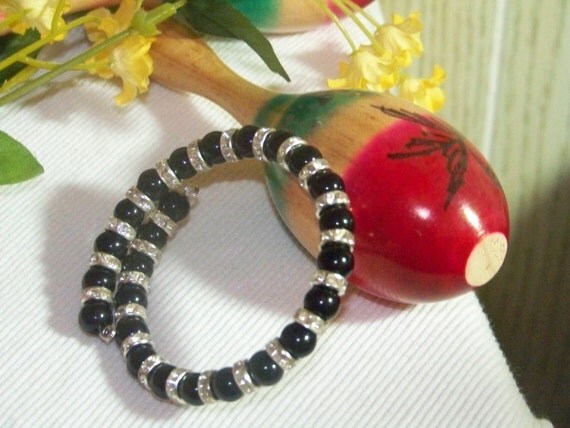 This is a memory wire bracelet. What is really nice about these types of bracelets is that they fit a range of wrist sizes (8-9+) comfortably.
This open ended bracelet pairs Black Obsidian 8mm rounds with Swarovski Rondelle Silver Plated Spacers and makes an elegant look. The Silver Plated memory wire has been curled at the ends. It is easy to put on and remove, but will stay in place for normal activities. (Not intended for intense physical activity, such as sporting events.) All jewelry contains small parts. Parental discretion is advised.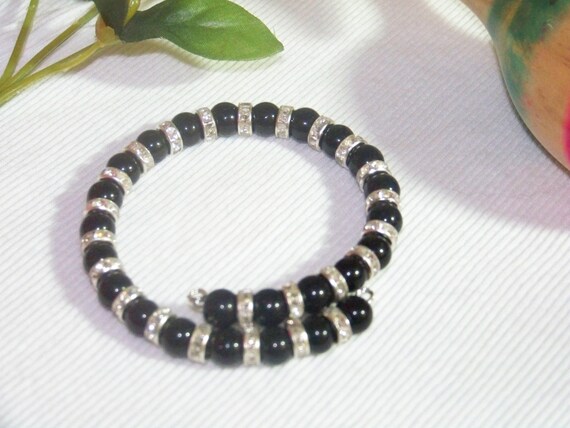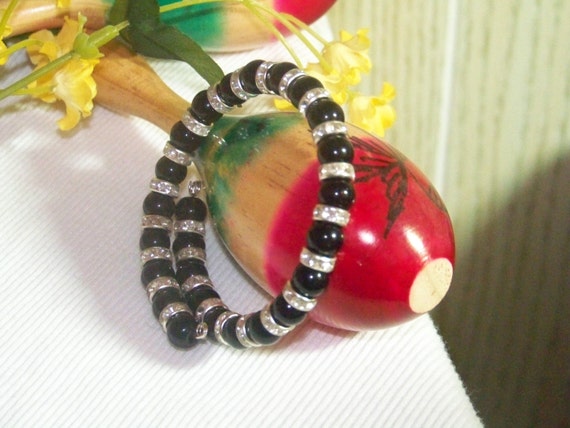 More information on Black Obsidian:
Obsidian is formed as lava from volcanic eruptions cools within the earth. The speed at which it cools prevents crystallization and the rock forms as solid volcanic glass. Obsidian can be found anywhere that volcanic activity has occurred. Some of its important sources today are South America, Japan, Mexico, Afghanistan, and parts of the United States. The San Carlos Apache Reservation in Arizona, United States, produces an interesting banded variety of obsidian known as "Apache Tears".
Healing properties of Obsidian
Obsidian helps to protect the very sensitive against depression. It is the stone of the soft hearted and gentle people of the world. Use obsidian to help block negativity of any kind. As a black gemstone, it symbolizes self control and resilience. Black stones have protective energies in the sense that black is the absence of light, and therefore, can be used to create invisibility.
The healing powers of gems remain a controversial issue, but are mentioned for centuries by healers, shamans and medicine men. The safest approach is to wear the gemstone in skin contact to the troubled part of the body.