Always remember to double check the price on Amazon as the prices can change at any time.
********************************************************



The adventure begins here…





Heroes are not born, they are forged in the fires of apocalypse...





Mercenary Kian Valara wants nothing more than to retire from a life of blood and butchery. But when an arrogant princeling offers him enough gold to buy a throne, Kian straps on his sword for one last mission. And besides, what could be easier than guarding a prince who wants to sow his royal seed in every backwater fortress and village throughout the realm?





Turns out, dying would've been easier.





Kian discovers too late that the prince's ambition has shattered the foundations of the world, and that he intends to remake all Creation.





As the moons collide and the skies burn, Kian and his devastated company of warriors hound the demented prince across a nightmare realm. At every turn, Kian must fight for his life against demons escaped from the underworld, and those who they have transformed into blood-hungry terrors.





Along the way, Kian meets a powerful and beautiful woman who prepares him for a battle he has small hope of winning. To triumph, Kian must summon all his skill and courage, he must sacrifice more than he ever imagined he could, and he must embrace the dark secret that binds him to the power-mad prince.





Only one thing is certain: if Kian fails, the world of men will burn in the fires of apocalypse, and the God King will rule unchallenged and unpunished.


********************************************************


She must learn to control her element. He must learn to control his desire.
A paranormal romance unlike any other...
Tally Chambers is content with her quiet, undemanding life. She works as a tarot reader during the day and plays open mics at night. Her simple utopia is shattered when the attractive Roland Stokes sits at her table. She is elated at his sudden interest in her, but soon discovers his true motivation.
Roland reveals that she is the Air Singer, one of four people in this generation who can control the elements. He is her paladin, sent to protect her from those who would cause her harm.
Tally is quickly thrown into a battle between two ancient societies. The Cadence want to protect her. The Spina want to kill her. All over a power she never asked for.
***********************************************************
Seth is a young man torn by fear and indecision. His life no longer in his hands, he fears an uncertain future where the only certainty is a life of servitude to the kingdom. Fortunately for Seth, he is not alone. His brother Garret too attends the choosing ceremony where their fates will be decided. Together the twins make their way to the castle city of Valdadore for the choosing ceremony but along the way Seth notices a strange new trend in his life. Time after time strange circumstances befall him in what others might call a coincidence, but Seth knows something else is amiss and begins mentally cataloging each new and strange event. Learning his past is all a lie, Seth begins to fear more for his future as a dark goddess vies for his service to her cause. Seths loyalties and responsibilities begin to stack up as he makes friends and allies and even falls in love, but with the choosing ceremony growing ever nearer will he be forced to flee the kingdom into a life of exile, or choose to serve the goddess who swears that only through her will he find peace.
*******************************************************



Nathan has spent seventeen long years in exile on a tiny Greek island, guarding a terrible secret - an act of love that has triggered devastating consequences. But now strange events compel him to return to civilisation to search out a long-lost love - and face a murderous foe. Events that spin out of control to reach a deadly climax in Soho, England, as treachery and self-deception are forced into the glaring sunlight.





And yet... this is only half the story. For into the narrative the author weaves a multitude of the myths that we must live by in order to survive.


********************************************************
Never pretty enough to please her gorgeous mother, Allie will do anything to gain her approval--even marry a man she doesn't love. Lt. Walter Novak--fearless in the cockpit but hopeless with women--takes his last furlough at home in California before being shipped overseas. Walt and Allie meet at a wedding and their love of music draws them together, prompting them to begin a correspondence that will change their lives. As letters fly between Walt's muddy bomber base in England and Allie's mansion in an orange grove, their friendship binds them together. But can they untangle the secrets, commitments, and expectations that keep them apart?
A Distant Melody
is the first book in the WINGS OF GLORY series, which follows the three Novak brothers, B-17 bomber pilots with the US Eighth Air Force stationed in England during World War II.
*************************************************************

Pool shark Jessie Hewitt usually knows where the balls will fall and how the game will end. But when a body lands on her couch, and the cute cop in her kitchen accuses her of murder, even Jessie isn't sure what will happen next. Playing With Poison is a cozy mystery with a lot of humor, a little romance, and far too much champagne.
***********************************************************
Breathless by Scott Prussing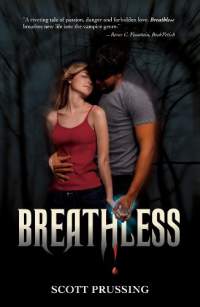 Breathless is the first book in the Blue Fire Saga, a paranormal romance series set at a small college in present day Connecticut. There are currently five books in the series.
Weston College freshman Leesa Nyland has been fascinated by vampires since she was three years old. That's when her mom started acting weird, insisting sunlight hurt her skin because she'd been bitten by a one-fanged vampire.
But fascinated doesn't mean Leesa believes. Any more than she believes in blue fire, people who live for centuries, and kisses that can kill. But when her beloved older brother suddenly disappears, she is forced to consider all these and more. She also has to figure out what to do about her mysterious new boyfriend. She knows Rave likes her a lot--so why won't he kiss her?
As Leesa draws closer to finding her brother, she faces some gut-wrenching decisions. Should she risk her mom's life trying to "cure" her? Should she continue seeing Rave, after he reveals his dangerous secret? And most terrifying of all, should she make the ultimate sacrifice-give up her humanity-to save her brother?
***************************************************
Worth the Weight by Mara Jacobs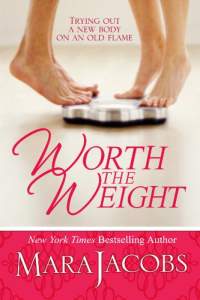 A New Body... A New Life... An Old Flame?




Lizzie Hampton is literally a shadow of her former self. Having lost half her body weight, she's headed to her small hometown to test out her new body on an old flame.

Just a harmless fling to get her self confidence back before she returns to

the city and the new man in her life.




But Lizzie's plan has a few bumps in the road.




Finn Robbins can't believe Liz is back in town. Desperate to be the holder of her innocence eighteen years ago, he never got the chance.

Now she's back and he can finally check her off his to do list.




But her friends, his son, and the mysterious Annie may have something to say about that.
******************************************************