Always remember to double check the price on Amazon as the prices can change at any time.
**************************************************
Throwaway by Heather Huffman
Jessie Jones is living the life--except for the fact that she earns it by working the streets. She's been under pimp Spence's thumb for fourteen years, and she isn't looking to change it. That is, until undercover cop Gabe walks into her life and offers her something she's never had before: a love, a future, a home. But even if Jessie could walk away from Spence, there are darker forces of evil who want her to stay put, or worse, dead.
In this romantic suspense, author Heather Huffman delivers an adventure from the vibrant streets of St. Louis to the caves of the Ozarks as Jessie discovers whether she can love another, whether she can love herself, and whether any of it is enough.
FREE TODAY ONLY!
Amazon
********************************************************
In the Middle of Nowhere (Willow's Journey - book #1) by Julie Ann Knudsen
A TEENAGE GIRL. A BROKEN HEART. AND A BOY WHO TRIES TO MEND IT.
Butterflies. Little, fluttering butterflies. That's what fifteen-year-old Willow Flynn feels in the pit of her stomach every time the mysterious boy is near. But Willow has other things to contend with as she deals with the tragic loss of her father, as well as her emotionally preoccupied mother, while being uprooted to a new house, a new school, a new life, far away, on an island, in the middle of nowhere.
At the beginning of the school year, the sickly, but cute Michael sends Willow the first of many cryptic notes during homeroom. He stares at Willow and gives her the creeps. Michael never returns to school after that, but Willow ends up connecting with the poetic boy on-line where they strike up an unusual friendship.
As Willow attempts to fit in and find her niche in the ever-cliquey high school world, she is further confused by Michael who strives to win her over and mend her broken heart. But will he be able to, especially when his own existence remains so uncertain?
Amazon
******************************************************
Into the Darkness (Darkness - Book #1) by K.F. Breene
I'd always been different. I saw objects in the night where others saw emptiness. Large, human shaped shadows, fierce yet beautiful, melting into the darkness. I collected secrets like other women collected bells; afraid to fully trust lest my oddities be exposed.
Until I saw him. He'd been gliding down the street, unshakable confidence in every step. It wasn't just that he was breathtakingly handsome with perfect features. Something about him drew me. Sucked my focus and then tugged at my body. As his eyes met mine, I was entrapped.
No one had noticed him. He'd been right there, just beyond the light, but only I had perceived.
I had to know if he was real. Or maybe I really was crazy. And even when my secret box was blasted wide open, dangers hurled at me like throwing knives, I couldn't stop until I unraveled his true identity.
I just had to know.
***Warning: sexual content. 18+ only***
Disclaimer:
This book contains some characters with a different moral code. Some situations may be uncomfortable, even though tempered with humor. If you are unable to read such material, please do not purchase. Otherwise, strap in and enjoy the ride!
*******************************************
Smolder (Dragon Souls - Book #1) by Penelope Fletcher
Wounded, a dragon drops from the sky to crash in front of Marina in an explosion of fire. She does the only reasonable thing a woman can do – she saves his life. Marina knows any moment may be her last, yet she cannot deny the connection between her and the alluring creature.
When fierce dragon lords appear, leading a dangerous assassin to their hiding place, the truth about her dragon is unveiled. The consequences of falling for a beast gifts Marina wonders never before seen ... in this world.
Amazon
**********************************************************
Blood and Justice by Rayven T. Hill
When sixteen-year-old Jenny James goes missing, and the local police are unable to find her, the girl's frantic mother hires private investigators Jake and Annie Lincoln to search for her daughter.
When the body of Jenny's boyfriend is discovered, the mystery of her disappearance deepens. Shaken out of their comfort zone of Internet searches and poring over public records, the couple soon find themselves facing the frightening possibility they are looking for the latest victim of a serial killer.
As more bodies pile up, the town is gripped with fear. It seems no one is safe, and the Lincolns race to solve an impossible puzzle before they become the killer's next victims.
*****************************************************
Deep Blue Secret (The Water keepers - Book #1) by Christie Anderson
California teen Sadie James thinks her life couldn't get any better. She has great friends, an energetic mother she adores, and the beach practically in her own backyard. But her carefree life is turned upside down when she's rescued by a mysterious and strangely familiar boy who won't even tell her his name. Each time the boy appears, Sadie's unexplainable attraction to him deepens along with her need to unravel his secrets. The boy is there to protect her, but as wonderful and exciting as it might be to have an irresistible boy with crystal green eyes protecting her every move, every minute of the day...why does Sadie need one? As Sadie finds answers, she realizes her life isn't as perfect as she thought. Not only is she caught in a world of dangerous secret agents she never knew existed, but it turns out her true identity may be the greatest secret of all.
READING LEVEL: Teen, Young Adult (Mild violence, NO explicit sexual content or profanity)
Amazon
*******************************************************
Take Me (The Untouchables - Book #1) by T.A. Grey
SHE MAKES HIS BLOOD BURN
Dominic Blackmoore meets the woman who captures his mind and body with a look and he's instantly taken with her. When he was ordered to take another mate quickly after separating from his ex, he loathed the idea. However, after catching sight of his bruid he quickly changes his mind. He finds her utterly captivating, sensually erotic, and yearns to learn everything about her.
BUT SHE'S NOT HIS BRUID
The woman he's mistaken as his bruid is none other than the event planner, Felicity Shaw, for his mating ceremony. Now Dominic will do everything it takes, even lie to the woman he craves, to keep her at his side. He needs to mate with his bruid in order to win his political campaign but he finds himself falling in love with Felicity Shaw. In the end he must choose between work or love. He may make the right decision, but is it too late to save his lies from hurting Felicity?
HE TAKES HER BREATH AWAY
Felicity Shaw wants more in life. She'll even lie to get it, which is exactly how she lands a job with the illustrious Blackmoore family. However, it's the head of the vampire household, Dominic Blackmoore, that has her heart racing and breath catching. The man consumes her unlike anyone ever has before. She can't resist him though she tries. As she's forced to work with Dominic she tries to keep away from him but he doesn't make things easy.
She may want him with a passion she's never experienced before, but she will not be with him when he's mating to another woman. It's either her or no one. But one terrible lies seals their fates together in ways neither of them imagined, threatening their love and the very fabric of their relationship.
Amazon
***************************************************
A Hidden Fire (Elemental Mysteries - Book #1) by Elizabeth Hunter
No secret stays hidden forever.
A phone call from an old friend sets mysterious book researcher Giovanni Vecchio back on the path of a mystery that has eluded him for centuries. Little does he suspect a young librarian holds the key to an ancient secret, nor could he expect the danger Beatrice De Novo would attract.
Now both will follow a twisted maze leading from the archives of a university library, through the fires of Renaissance Florence, and toward a passion that could destroy them both.
Amazon
*******************************************************
Season of the Harvest (Harvest Trilogy - Book #1) by Michael R. Hicks
You Are What You Eat
At a genetics lab where a revolutionary strain of corn is being developed, FBI Special Agent Jack Dawson's best friend and fellow agent is brutally murdered, his body torn apart.
Jack is convinced that Naomi Perrault, a beautiful geneticist and suspected terrorist, is behind the murder. But when Jack is framed for setting off a bomb that devastates the FBI lab in Quantico, Naomi becomes Jack's only hope of survival.
Confronted by the terrifying truth of what the genetically engineered seeds stolen by his friend are truly for and who is really behind them, Jack joins Naomi in a desperate fight across half the globe to save humanity from extermination...
Amazon
*********************************************************
Broken Ferns by Toby Neal
The island of Oahu is warm breezes, skyscrapers and green mountains—but a daring young thief is out to make a statement, and Special Agent Lei Texeira's new career is already on the line.
Lei Texeira has made a difficult transition from detective on Maui to the FBI on Oahu—and her first big case as an agent draws national media attention. With her typical jump-first, look-later style, she pursues her quarry from Oahu to the outer islands, rousing old conflicts and new heartbreak.
Amazon
******************************************************
The Wild One by Danelle Harmon
"The bluest of blood, the boldest of hearts; the de Montforte brothers will take your breath away."
England, 1776: Lord Gareth de Montforte is known as an irresponsible rake with a heart of gold. When he takes a bullet for boldly thwarting a stagecoach robbery, he is stunned to discover that the beautiful young woman he has heroically rescued, Juliet Paige, is his deceased brother's American fiancée, accompanied by her infant daughter. Despite his brother the duke's refusal to acknowledge Juliet, Gareth is determined to do right by the courageous woman who crossed an ocean to give her baby her rightful name. But Juliet is wary of marrying this black sheep aristocrat, even while she is hopelessly charmed by the dashing devil. Never has she met anyone who embraces life so thoroughly, who makes her laugh, who loves her so well. And, even when it seems the odds are against them, Juliet has absolute faith that Gareth will go beyond the call of duty, risking his life itself to give her and her daughter a home -- and a love that will last a lifetime.
Amazon
*******************************************
Sora's Quest (Cat's Eye Chronicles - Book #1) by T. L. Shreffler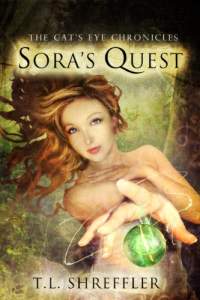 Sora Fallcrest always dreamed of adventure, but as a member of the nobility, she learned the ways of a Lady instead. Now seventeen, she is expected to choose a husband and marry. She plots to run away, but just as she is stepping out the door, she runs into a mysterious man--and is kidnapped.
Abducted from her manor, Sora is plunged into a world of magical races, arcane jewelry and forgotten lore. She finds herself at the mercy of a dangerous assassin, haunted by an even darker past. She yearns for freedom, but he won't let her go--not when her Cat's Eye necklace is the only thing that can save his life.
But the necklace itself presents a problem. It is an ancient device from the long forgotten War of the Races, and its magic has the ability to steal souls. Can Sora learn to wield its power--or will the power wield her? (Winner of the SKOW 2006 Best Fantasy Award)
Amazon
Smashwords