Always remember to double check the price on Amazon as the prices can change at any time.
*****************************************************************
Zombie Games b

y Kristen Middleton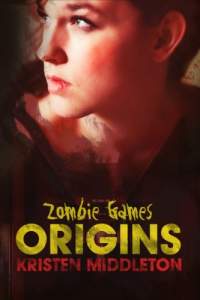 Seventeen-year-old Cassandra Wild thought that living in the chaos of her mother's home daycare and dealing with new feelings for Bryce, her martial arts instructor, was a struggle until her world turned upside down. When an untested vaccine kills more than just a rampant flu virus, Cassie learns how to survive in a world where the dead walk and the living... run!
This YA story is a lighthearted adventure filled with zombies, butt-kicking teenaged girls, a man obsessed with video games, an annoying but totally HOT karate instructor, and humor when needed.
Zombie Apocalypse? Bring it!
This is a young adult fictional story that includes some language, violence, and mild sexual situations. Recommended for ages sixteen and up.
Amazon
Smashwords
*********************************************************
Burden of Sisyphus b

y Jon Messenger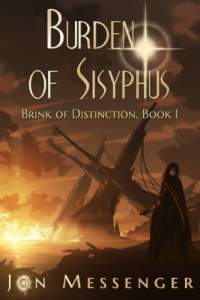 Between the alien Alliance and the Terran Empire, a neutral zone stretches between the galaxies, a demilitarized zone that was established 150 years previous, following the Great War. The peace accord granted a semblance of peace to the universe. The peace, however, is a facade, and it is the responsibility of Michael Vance and his covert operations team to maintain that illusion.
Recently, the Alliance lost contact with one of their outposts near the neutral zone. Surveillance scans show an abandoned city and no signs of life. The Alliance does what it always does: send in the best. But an unexpected betrayal leaves Vance and his team stranded. Worse, the city that was supposed to be dead is quite alive. And the monsters that now roam its streets are slaughtering his team, one at a time.
Amazon
Smashwords
******************************************************************
Off My Rocker by Kenny Weissberg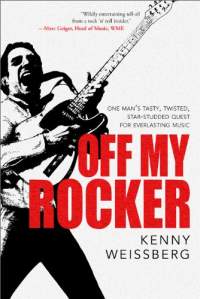 He messed with James Brown's perfect hair. He counted a pile of cash with Aretha Franklin in her hotel room. He ate popcorn with Leonard Cohen. He cured a dying sparrow with Joan Baez. He got bamboozled by Chuck Berry.
Kenny Weissberg followed the music his entire career. A disc jockey, critic, rock singer, bandleader, and concert promoter, he lived all his childhood dreams—some of which turned into nightmares.
Off My Rocker presents a rollicking, backstage look at the joys and painful realities of a life devoted to music. During his early years as a radio personality, Weissberg basks in the creative glow of the free-spirited, post-Woodstock era but later rebels against the soulless corporate takeover of the music he's loved forever. Along the way, he detours to the dark side, succumbing to the greed, deceit, theft, and drugs that plague the entertainment industry.
In lively prose and vivid detail, Weissberg shares stories about the eccentric cast of characters who cross his path, including a spectacular array of showbiz legends. Equal parts spicy confessional and pop-culture adventure, with trenchant insights throughout, this page-turner of a memoir will stay with you long after the closing credits.
Amazon
*******************************************************
Dark Love by Claudy Conn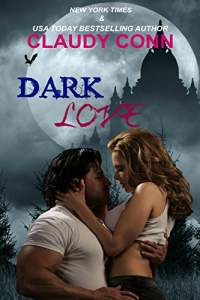 One goal consumes Chazma Donnelly: find the dark sorcerer who murdered her parents.
When the trail leads her to Ireland, she takes a job cataloging a private library. But she doesn't expect to find a manor house that eerily echoes one in her dreams, or an employer whose touch awakens a savage darkness in her.
The attraction between Chaz and Jethro McBain is volatile, but darkness surrounds his aura. Chaz doesn't trust him, even though it is his voice she hears in her sleep, and his touch that sizzles the blood in her veins.
As Chazma's investigation widens, a series of local murders shows the killer knows of her obsession.
Will Chaz's need for revenge take her from the edge of evil into a black pit where she can no longer find herself? Or can she find love in the midst of darkness?
Amazon
Smashwords
All Romance
*********************************************************
True Love's Fire by Sable Hunter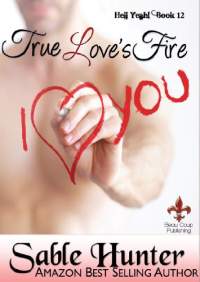 While vacationing at a cabin in the Ozarks, Scott Walker - Austin neurobiologist, gets snowed-in and has to be rescued by local, Lia Houston. She brings him food, helps him fix his heat and tries to get his car on the road. A monster storm has paralyzed the mountain and as she's trying to chain his car to her truck, a huge ice-covered limb falls, crushing the front of her pick-up and almost flattening Scott. If she hadn't moved fast, he'd be a memory - but the brave action on her part comes with a price, she's injured and stuck with Mr. Know-It-All until the weather abates. Scott doesn't believe in love, much less love at First Sight. So when he meets Lia, he welcomes the attraction, but fights the tenderness with every breath in his body. Join Sable Hunter as she chronicles their journey from lust to love with a lot of fireworks in between. They meet at the dawn of the New Year, and by Valentine's Day the fires of True Love are burning bright.
Amazon
************************************************************
Dating A Cougar by Donna McDonald
After several decades of looking for true love and never finding it, aging model and lingerie designer, Alexa Ranger, has finally given up the search. A couple years ago, she got tired of the game completely and just stopped dating. Now friends and family keep her mostly content, so it's shocking at 50 yrs old to find herself suddenly wanting a sex life again. It's even more shocking to be attracted to a much younger man this time. She definitely thinks medically retired Marine, Casey Carter is sexy, but can't get passed their twelve year age difference to even consider a fling. Not that it matters anyway, anything resembling a normal dating relationship is totally out of the question because Casey is related to and living with her daughter's boyfriend. The very last thing Alexa needs is yet another talk-show worthy drama in her already complicated life, no matter how amazing Casey's kisses make her feel.
Amazon
**************************************************************
The McCall Initiative
Episode 1.1: Deception b
y Lisa Nowak
What if the Pacific Northwest seceded from the United States?
In 2063, it has.
The climate change that's devastated all but the Northwest corner of the U.S. has been around since before Piper Hall was born. She doesn't spend much time thinking about it, the secession that created Cascadia, or the closed border, erected to keep out climate refugees. All she wants is to get through high school and earn a medical degree so she can pull her family out of poverty. Piper's sure her little brother's stories about poor people vanishing are just rumors--until she comes home to an empty house. Losing her future, her family, and her freedom and forced into hiding, Piper has to find a way to get to the bottom of the disappearances. But the only one who can help might be the very boy whose family has displaced her own.

Deception, Episode 1, Season 1 of The McCall Initiative serial, is approximately 69 pages or 24,000 words.

Box Set #1 is now available. It includes episodes 1-3, Deception, Revelation, and Conspiracy.
****************************************************
Wool - Part One by Hugh Howey
Thousands of them have lived underground. They've lived there so long, there are only legends about people living anywhere else. Such a life requires rules. Strict rules. There are things that must not be discussed. Like going outside. Never mention you might like going outside.
Or you'll get what you wish for.
******************************************************
Love In A Time Of War by Suzanne Elizabeth Anderson
Author's Note: For fans of romance and 'happily-ever-after'...LOVE IN A TIME OF WAR is a beautiful re-imagining of my first novel, Mrs. Tuesday's Departure, with new scenes and an entirely new ending.
In this emotionally powerful WWII drama, children's book writer Natalie Lucas discovers the many faces of love as she helps her beloved niece Mila escape the approaching Nazi menace in Hungary.
Natalie's twin sister, the celebrated poet and professor, Anna Lucas, has succumbed to early-onset dementia, making the situation even more unstable for Natalie and Mila. Natalie and Anna's personal and professional relationship provides an interesting subplot whch focuses on the foundations of sisterly love.
In the meantime, surrounded by violence and the threat of capture, Natalie must find a safe way out of the country for Mila. She eventually turns to her teenage sweetheart, Deszo, a Professor whom she rejected in order to marry her true love, Max.
The past love triangle between Deszo, Natalie and Anna adds further complications; however, Deszo may provide Mila with her only chance of escape. As Natalie and Deszo are thrown together by their mission to save Mila, their love for one another is re-ignighted.
After the Nazis learn of Deszo's assistance to the Jews, he and Natalie are brutally interrogated by a Nazi officer who has been following their activities, and their lives are in danger. After many doubts as to who in their community is friend or foe, the novel culminates with a heart-wrenching conclusion which provokes questions of loyalty, family and above all--faith.
NOTE FROM SUZANNE: Love in a Time of War is a re-imagining of my first novel, Mrs. Tuesday's Departure. How did this happen? As I was working with my editor on the second edition of Mrs. Tuesday, we began asking 'what-if' questions about the relationship between Natalie and Deszo. LOVE as the title suggests contains both a romance and the happy ending that readers told me they wanted. It is with great happiness that I am able to provide both in this story.
**************************************************
Follow the Stone by John Locke
International best-selling author John Locke (Saving Rachel, Wish List, Now & Then, Lethal People, Lethal Experiment) tackles a new genre, with hilarious results.
Follow the Stone (An Irreverent Western Adventure) is a good-hearted, rollicking story about a former gunslinger and his crablike scout, who journey West with a mail order bride, a witch, and a wagon full of prostitutes!
Amazon
************************************************************
Consensual (Club Imperial Series - Book #1) by Katherine Rhodes
From the moment Nathaniel laid eyes on Emmy Westerly, he wanted her in his life. He would do anything to get her there and keep her there. To his surprise, Nathaniel found himself quickly pulled into Emmy's dark world of whips and blindfolds, kink and submission. He was intrigued not only by the thrill of it, but by the enigma which led Emmy there as well.
Emmy could not resist Nathaniel Walsh. She couldn't deny the electricity between them, the utter animal magnetism she felt for him. Emmy was mystified by someone as honest and uncomplicated as Nathaniel allowing her to lead him into the dark. She adored having him at the tip of her lash.
But Emmy had secrets - deep, cruel truths which led her to Club Imperial, and staying with Nathaniel would mean telling him everything. He wasn't ready for that.
Neither was she.
** Content Warning: Contains explicit content with BDSM, Erotica, and strong language. Not intended for all audiences. 18+ Audience
Amazon
*****************************************************
Castle Cay (Julie O'Hara Mystery Series) by Lee Hanson
When her best friend is murdered, Julie O'Hara, a body language expert, packs up her suspicion and flies to Boston for his funeral. Who could have killed rising artist Marc Solomon, and what does Castle Cay, the Solomon's mysterious Caribbean island, have to do with it? Before long, Julie's sixth-sense pulls a hidden string that unravels a deadly conspiracy...and her own troubled past.
Amazon
*************************************************************
A Legacy of Light (The Dragon War - Book #1) by Daniel Arenson
"We live in a time of darkness. Requiem lies cloaked in shadows. Tonight we say: We will fight. We will keep our light blazing."
A Legacy of Light (The Dragon War, Book One)
-- a new fantasy trilogy for fans of
A Game of Thrones
and
The Lord of the Rings
The people of Requiem, an ancient kingdom, can grow wings and scales, breathe fire, and take flight as dragons. For years, Requiem's holy stars have blessed the kingdom with light and magic. But now a darkness falls.
General Cadigus, traitor to the crown, has captured the throne. Bloodthirsty and cruel, he rules with an iron fist. He crushes his own people under his heel. He burns all foreign lands. The noble kingdom of Requiem fades; a dark empire rises.
In the wilderness, a small light kindles. Rebellion brews. The rebels are haggard, outnumbered, and desperate. They hide in forests and ruins. They fight for the memory of Old Requiem, for a legacy of light.
The Resistance is small, but its cry is loud: "The tyrant must fall."

Amazon
***********************************************
Fallen Crest High by Tijan
Mason and Logan Kade are two brothers who did their own thing. They were rich and expected to attend her school, Fallen Crest Academy. They chose public school and now Samantha has to live with them. The problem is that she doesn't care at all: about them, about her friends, about her cheating boyfriend, or even about her parent's divorce. But maybe that's a good thing. Maybe change is a good thing.
**This book contains adult/mature young adult situations.
******************************************************
Ghost in the Machine (Scott Cullen Mysteries - Book #1) by Ed James
Detective Constable Scott Cullen of Lothian and Borders has only been three months in CID as a full DC. He is assigned a Missing Persons case which has stretched his uniform colleagues. Caroline Adamson - a young, recently divorced mother from Edinburgh - has disappeared whilst on a date.
The more Cullen digs into her disappearance, the more he unravels her private life. Who was she on a date with? What happened during her divorce from Rob Thomson? As Cullen's own private life gets messier and the relationship with his DI deteriorates, Caroline's body turns up and he finds himself hunting for a ghost in the machine.
****************************************************
Dark Cotillion: Book 1 in The Strachan Series (The Brenna Strachan Series) b

y Hadena James
Brenna Strachan is half-Demon, half-Witch and its the eve of her 30th birthday. This means that she will stop aging and come into all her Demon powers.
But there are forces at work hoping to keep her from Maturing. They must kill her in the short time that she is mortal.
If they fail, she will take her place among the most powerful beings on Earth. While Brenna struggles to stay alive, she must also struggle to find out exactly who she is.
*********************************************************
A Chance at Love (A Ferry Creek Novel) by Karolyn James
Coming to Ferry Creek was supposed to be a short trip to settle a past, not begin a future.
The day billionaire businessman Sullivan Chasen receives a phone call that his father is dying is the day his world became turned upside down. The problem is that his father has been dead for ten years. The bigger problem is that the person who called keeps calling, insisting that Sullivan's father is going to die soon.
A shocking DNA test suddenly has Sullivan questioning everything he has ever known and has him packing up and driving to the small town of Ferry Creek, North Carolina.
There, he confronts a past he never knew existed, including a half-brother who is living in a small apartment above the family diner, a local staple in Ferry Creek.
What begins as a short trip to settle any necessary needs soon turns into a new life for Sullivan. The longer he stays in Ferry Creek, the more he falls in love with the small town... and a waitress named Jess who works at the diner.
******************************************************
Evan Burl and the Falling, Parts 1-4 by Justin Blaney
My father abandoned me when I was an infant.
My friends have turned against me.
My uncle beats me.
The most powerful men in the world want me dead.
They all have one thing in common.
They think I'm turning into a monster.
I'm starting to worry they're right.

*****************************************************
They Met At Shiloh (The Shiloh Series) by Phillip Bryant
Pittsburg Landing was a place at peace—one that never expected to be the site for one of the bloodiest battles of the Civil War. Peace is shattered as Confederate and Federal troops meet on the fields and farms surrounding a tiny Methodist church. In the midst of death and destruction, friendships form as four soldiers struggle to survive the battle.
Forced to leave his position as minister, Phillip Pearson knows his life is in danger, but not just from the Confederates. The Harper family, incensed at Pearson's refusal to bury a philandering son, has a vendetta against him that is played out on the battlefield.
Demoted from his command by a West Point graduate, Capt.Michael Greirson is forced to choose between ambition and duty.
When a bumbling youth becomes his shadow, Private Robert Mitchell gains an unlikely friend—something that has been missing from his life. Afraid to trust, he is forced to confront those fears and depend on others in the heat of battle.
War is an adventure to Private Stephen Murdoch and his best friend, William Banks. For months they dream of the glory of war before volunteering together. On the eve of battle, they sense something momentous is about to happen. Their idealistic views fade in the blood of their fallen comrades.
Of the 40,000 Confederates and 30,000 Federals about to come face to face along the banks of the Tennessee River, these four soldiers will experience fear and questions of faith for what lies beyond. Two days of horrific fighting turn boys into men and sever the sacred bonds of comradeship in the bloodiest days of the war.
*************************************************
Death Never Sleeps by E. J. Simon
A story of murder, betrayal and love with twists and turns that as a professional detective even I didn't expect . . . A Must Read! E.J. Simon is the real deal VITO COLUCCI, JR. author of the true crime book, Rogue Town, A City Under the Stranglehold of Organized Crime "This reader white-knuckled her way from start to finish. Simon is a master at the game of suspense. A page-turner at its best that left me begging for more" JUDITH MARKS-WHITE, author of Seducing Harry and Bachelor Degree "DEATH NEVER SLEEPS . . . will make you ponder the technology suturing our lives. You will also question where life ends, and where death begins" MARK RUBINSTEIN, author of Mad Dog House and Love Gone Mad DO THE DEAD HAVE SMARTPHONES? The problem with Alex Nicholas is that he won't stay dead. Alex Nicholas was the consummate Queens bookie: fast cars and even faster women, and friends in all the wrong places. As an illegal sports betting and loan shark king in New York City, Alex was fearless-until the night his luck ran out and someone leveled the silver barrel of an automatic on him and pulled the trigger. Michael Nicholas was everything his brother Alex was not: a powerful, married straight-arrow corporate CEO living the American Dream. Their two worlds collide when Michael discovers his brother's secret laptop. As Michael crosses the globe to find his brother's murder, can he avoid his brother's fate? And can the information contained in the laptop help Alex reach out to help Michael-from beyond the grave.
*****************************************************
On the Street Where You Die (Stanley Bentworth mysteries) by Al Stevens
Stanley Bentworth is not all that tough. Previously a homicide cop, he drank his way out of a job and now runs a one-man private eye agency finding people who don't want to be found. He doesn't accept tough-guy assignments, calling himself a "soft-boiled detective," but a recession is on, and business is off, so when a wealthy financier, formerly a mob enforcer, needs an anonymous blackmailer found in a life and death situation, Stanley seizes the chance to earn a fee.
If he fails, the blackmailer outs his client to the wise guys, in which case the client gets a one-way ticket to the landfill, and Stanley risks becoming an unwilling passenger on that ride.
He knows he must not fail, no small feat given that Stanley Bentworth is not all that tough.

****************************************************
Leave It to Chance: A Nove
l by Sherri Sand
Single mom of three, Sierra Montgomery is desperate to find a new job to keep from having to move back home and be smothered to death by her mother's good intentions and overbearing love. So when Sierra inherits Chance, a quirky old gelding she doesn't have a clue what to do with, she thinks her best bet may be to sell the horse to cover another month's rent-a decision that devastates her children.

Enter Ross Morgan, a handsome landscaper who just happens to have an empty barn and fenced pasture, perfect for an old horse to live out his days as the pet of three wounded kids. Ross develops a soft spot for eldest child Braden and he just might have one for Braden's mother. But what he doesn't have is time for distractions-he's got a landscaping business to run and nursery plants to tend.

But Sierra has a secret. She's terrified of horses and—thanks to her past—wary of attractive men. Yet seeing the way her angry son idolizes Ross and adores that old horse forces Sierra to confront her fears. Will she remain distrustful and self-reliant, or will she seek help from God and those who love her?