Always remember to double check the price on Amazon as the prices can change at any time.
*****************************************************************
Heist School Freshmen b

y Alan Gallauresi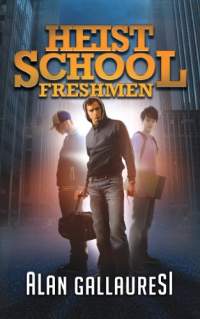 Angelo Bastillo has just started high school, and already his life is over: dumped by the dream girl he's been crushing on for years, hating every class, terrorized by twin bullies, and forced to consult a suicide line in lieu of therapy by his overprotective (and incredibly cheap) father. Then he, his best friend Drew Wales and the geeky new kid in school, Lionel "Porno Name" Tang, stumble upon a secret cache of dirty money that can make them rich -- if they can only find a way to steal it. So, they decide to put together a team.
Meet their crew: Portia Wentworth, gorgeous drama club temptress with a secret, now turned con artist. Kyle Williams is their hitman-for-hire computer hacker with a heart of stone. And Charles Crewel, the "nice guy" star football player sidelined with a season ending injury? Well, he's the muscle of the operation -- all 283 bone-crunching pounds of him. When the team adds the suspect assistance of a mysterious senior class mastermind known only as "The Saint", all the pieces begin to fall into place.
Now Angelo is ready to plan an incredible heist to pull off the big score. Everyone is counting on him. But with his daily life full of complicated boy/girl drama, depression, sub-minimum wage "character building", completely unnecessary pop quizzes, and a truly unhealthy but incredibly satisfying amount of videogames, can he finish the job and still manage to finish freshman year?
This "entertaining and brilliantly comic novel"* is sure to appeal to teens, fans of young adult literature, crime buffs, people who still keep old episodes of Leverage on their Tivo (even though their hard drive is getting pretty full) -- basically, anyone who ever went to high school and wished it could have been just a little bit more thrilling, and a whole lot funnier.
Amazon
****************************************************
Sworn (The Vampire Legends - Book #1) b

y Emma Knight
When her dad is transferred, Rachel Wood is uprooted from her home in Pennsylvania and forced to enter a new high school, in 10th grade, in an affluent suburb in Westchester, New York. She finds herself in way over her head, as she struggles to come to grips with meeting new friends, finding a boyfriend, avoiding the cliques of mean girls, and figuring out how to survive in such a hostile new world. She has trouble navigating this new world, where drinking and drugs seem the norm, and where social pressures build on her from every direction. Everything seems to go wrong for Rachel, until salvation comes in the form of Rob, a football player who takes a liking to her. But just as there romance is about to blossom, she finds herself confused by his actions. As things reach a low point, Rachel meets a mysterious boy from her school, Benji, a loner who keeps apart from the other kids, and who takes her on a ride on his motorcycle. They have an unforgettable night together in an amusement park-until something goes horribly wrong, and Benji shocks her by saving her life. Rachel knows that Benji is different from everyone else, and she knows that he is the love of her life. And as their romance deepens, she has to decide if she is willing to give up everything to find out his secret..
Taken (The Vampire Legends - Book #2) b

y Emma Knight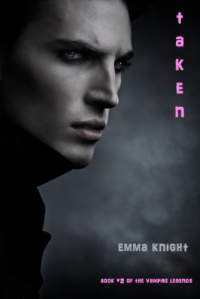 TAKEN is book #2 of the Bestselling series THE VAMPIRE LEGENDS, following SWORN (Book #1) which has over 45 five star reviews and is available as a FREE download on Amazon!
In TAKEN (Book #2 of the Vampire Legends), Rachel Wood finally learns the secret that her new boyfriend, Benji, has been hiding: he is a vampire.
But Rachel refuses to believe it. Thinking he is crazy, she runs from him, and resolves to never see him again.
But despite herself, Rachel can't stop thinking of him. As he comes to her in her dreams, Rachel can't help wondering if maybe, just maybe, it is all true.
Meanwhile, Rachel is back in high school, the day after her dreaded homecoming dance, and is left to deal with the fallout of the brawl. Rob's football friends were injured, but that doesn't stop Rob from falling for Rachel all over again. And despite herself, she realizes that she just might still have feelings for him, too.
Rachel's social pressures build from her group of friends, and she is forced to lie to her parents, and sneak out, in order to get out of being grounded and have any social life. Her sister, Sarah, covers for her, as those two start to develop a deeper bond.
But problems only escalate for Rachel, as Benji comes back into her life, bringing danger with him. She discovers his world at his ancestral home in the mysterious Lyndvia Castle on the Hudson River. But just as their romance is blossoming, Benji's twin brother shows up with a message that just might mean the end for all of them. Rachel will have to decide just how much she wants to sacrifice to be with the love of her life.
***************************************************
Emily: Sex & Sensibility b

y Sandra Marton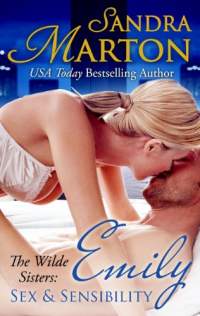 EMILY: SEX & SENSIBILITY is a steamy romance novel by USA Today Bestelling Author Sandra Marton. Emily Wilde has led a privileged life. Now she's trying to make it on her own in Manhattan. Marco Santini grew up dirt poor in a Sicilian slum. Now he has everything. He's gorgeous. He's rich. He's powerful. And he has all the beautiful women a man could ask for. Then, one rainy night, he sees a woman standing alone on a deserted New York street corner. Emily is clearly in need of help, but she's not foolish enough to step into Marco's chauffeured Mercedes. It takes a lot of convincing before she lets him take her to her apartment. He swears he's not going to do anything he shouldn't and he means it--but she's in his arms before they can stop themselves. Still, it's only a kiss, just one kiss in a moment torn out of time. That's what they both think. But Fate has other plans, starting with an unexpected job offer and a business trip to Paris that explodes in a passion so hot it will change everything--everything but the web of lies that traps them both.
Amazon
Smashwords
****************************************************************
The Man On Table Ten by Luke Smitherd
It's a story that he hasn't told anyone for fifty years; a secret that he's kept ever since he grew tired of the disbelieving faces, and doctors' reports advising medication. But then, he hasn't touched a single drop of booze since that one, fateful day, and breaking that vow in the presence of bright young waitress Lisa Willoughby means that her life will be changed forever ... because now, the The Man On Table Ten wants to share his incredible tale.
It's only when he's finished when that she will have to worry. Once she knows the unbelievable burden that The Man On Table Ten has carried throughout the years. When she knows the truth, and is left powerless to do anything except watch for the signs...
An unusual story exclusively for the Kindle, The Man On Table Ten is the latest novella from Luke Smitherd, the author of the Amazon UK number one bestseller THE STONE MAN. Original and compelling, The Man On Table Ten will leave you breathless and listening carefully, wondering if that sound you can hear might just be
pouring sand that grows louder with every second...
Amazon
********************************************************
Out of Time by Monique Martin
Professor Simon Cross has spent his life searching for evidence of vampires and avoiding emotional entanglements. When a mysterious accident transports Simon and his new assistant, Elizabeth West, back in time, Simon finally finds both the proof that he's been looking for, and the romance that he hasn't.
In 1920s Manhattan, they find that are more than mobsters vying for power in the city's speakeasies. Will Simon and Elizabeth's developing relationship survive the vampires' teeth? Will they survive to make it back? Or will they be forever out of time?
Amazon
*********************************************************
Maggie for Hire (Maggie MacKay - Magical Tracker)

by Kate Danley
When monsters appear in Los Angeles, Maggie MacKay is on the job. No one is better at hauling the creepy crawlies back where they belong. No one, that is, except her dad, who disappeared without a trace in the middle of an assignment.
Now an elf named Killian has shown up with a gig. Seems Maggie's uncle is working with the forces of dark to turn Earth into a vampire convenience store, serving bottomless refills on humans.
The only hope for survival lies in tracking down two magical objects and a secret that vanished with Maggie's father.
WARNING: This book contains cussing, brawling, and unladylike behavior. Proceed with caution.
Amazon
************************************************************
Greetings From Above:

Proof of Life After Death b

y K. M. Ryan
Love never dies, and "Greetings From Above - Proof of Life after Death" relates 107 true personal short stories of after death communications and personal encounters between deceased loved ones and those left behind. It seeks to provide comfort, healing and hope to people who have lost loved ones to death.
Death affects every person, religion and culture. Survivors who receive signs from deceased loved ones may not allow themselves to fully recognize that they really are actual signs. They may believe these signs are "all in their heads" and dismiss them.
The recipients of these proof of afterlife signs are often embarrassed to tell others their experiences or ask people if they, too, have received signs.
"Greetings From Above - Proof of Life after Death" seeks to provide solace to the grieving, offer reassurance that their loved ones are fine, are still with them and are watching over them while they continue to love them as they did when they were on earth.
These life after death stories seeks to offer comfort and reassurance to the grieving allowing them to heal, experience peace and move forward with their lives while recognizing that their loved ones are still with them.
The book aligns with Catholics' communion of saints, appeals to both spiritual and religious persons, and pertains to the Resurrection, human love and eternal life.
Amazon
*************************************************************
Naturally Beautiful Skin: How To Eliminate Skin Problems, Reverse Age Spots, and Get Rid of Acne For Life b

y Emily van Gils
For a limited time only get this book absolutely FREE to read on your PC, Mac, smart phone, tablet or Kindle device.
You're about to discover the secrets to achieving beautiful skin for the rest of your life without any expensive products. Millions of people suffer from embarrassing skin conditions such as wrinkles, dry skin, acne, enlarged pores, and age spots because they don't understand how their skin operates and in turn they don't understand why they have the condition in the first place. They look for topical solutions by buying expensive products, excessively washing and scrubbing the affected area, and putting on make-up daily in attempts to make their skin look normal.
The truth is that most of these people have problem skin for very lengthy periods of time, simply because they are lacking the knowledge and the secrets to achieving and maintaining healthy, radiant skin. It is not as complicated as you think it is. Simplicity is key here. Your skin is delicate and needs to be treated accordingly. This book goes into depth on how the skin functions, and provides a step-by-step guide that will allow you to free yourself from the inevitable aging process of your body. The knowledge this book contains will help you halt and reverse the aging process so you look young on the outside and feel young on the inside.
Here Is A Preview Of What You'll Learn...
Understand How The Skin Functions as an Organ

Understanding How Skin Problems Are Formed

Uncommon Knowledge on How Age Spots Are Formed

An Effective Method To Removing Age Spots

How To Manage Acne From The Inside Out

How To Get Rid of Wrinkles

How to Look A LOT Younger

How To Properly Wash Your Face

Why Using Soap On Your Skin Is Bad

How To Protect Your Skin From Harm

How To Speed Up The Recovery Process

Recipes for Homemade Skin Care

Bonus Nutrition For The Skin Recipe
******************************************************
CADE: A MacKenzie Family Novel (Romantic Suspense) (The MacKenzie Family) b

y Liliana Hart
Cade MacKenzie is prepared to give his life to destroy the cartel that killed his lover, but the only way to draw them out is to present them with the perfect bait.
Bayleigh Scott has no idea who her new neighbor is, only that her body is drawn to him in ways she can't explain, and the danger that surrounds him isn't the deterrent she knows it should be.
More than fireworks explode between Cade and Bayleigh when she discovers the real reason he relentlessly pursued her, but by then it's too late, because she's already been drawn into a deadly game of desire, deception and revenge.
THE MACKENZIE SERIES:
Dane
Thomas
Riley
Cooper
A MacKenzie Christmas (All I Want for Christmas Anthology)
***************************************************************
Charred Heart (#1, Heart of Fire) b

y Lizzy Ford
Modern day retelling of "Beauty and the Beast"
***Recommended for ages 18+ due to multiple, creative, detailed, steamy, sexy-time adult situations.***
For a thousand years, Chace has searched for a way to break the curse placed on him by a jilted lover. He's a dragon shifter, one who can't control when the magic will force him into a different form. He's already lost everyone he ever cared about a few times over and doesn't know how much longer he's meant to suffer.
At his wit's end, he makes a deal with a mysterious figure that offers him what he wants most – an end to his misery – in exchange for everything that's his: His life, his power. His heart.
The next day, he meets Skylar, a modern day dragon slayer whose mission is to cage him – or kill him. Sexy, witty and brave, she is the yin to his yang, the woman destined to break the curse, balance his magic and make his broken heart whole.
Except it's too late. Not only has he sealed his fate, but an innocent one-night-stand with Skylar has dragged her into the middle of a deal with the devil, one she won't escape, if he can't convince her that dragon shifters aren't her enemies.