Always remember to double check the price on Amazon as the prices can change at any time.
TODAY'S FREE BOOKS
The Leopard Tree by Tim Merriman and Lisa Brochu
Three orphans from Kenya stow away on an airplane to embark on a desperate quest to meet the Secretary General of the United Nations in New York City and deliver a message they hope will help millions of homeless and hurting children in Africa. The Wonderful Wizard of Oz becomes their guidebook as they journey alone across the United States. The trio--one with HIV, one blind amputee, and one who hasn't spoken for years after watching her family slaughtered--find themselves embroiled in a situation beyond their imaginations as they get close to meeting their goal.
The Leopard Tree won the Best Young Adult Fiction Award in 2008 with Writer's Digest International Self-published Competition and a Third Place EVVY in the Fiction Division of Colorado Independent Publisher's Awards in 2008. This book was written with the hope of raising awareness of the millions of people in Africa who suffer the effects of malnutrition,malaria, HIV/AIDS, and the unspeakable atrocities associated with armed conflicts.
Lisa Brochu and Tim Merriman have spent the last four decades helping people connect with our global natural and cultural heritage. This is their first work of adult fiction, but they have several other non-fiction books in print. Through their books and speaking engagements, they hope to help others to know more and do more about the daily challenges in meeting basic needs that face tens of millions of people in developing nations. When they are not traveling the globe, Tim and Lisa live in Fort Collins, Colorado, on a small farm where they raise much of their own food. They can be contacted by email at lbrochu57@gmail.com and timfmerriman@gmail.com.
Amazon
***********************************************
Enlightened by Melissa Lummis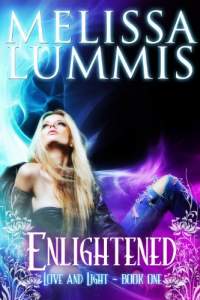 Book One in the Love and Light Series
Loti Dupree's meager healing abilities have been more a curse than
a blessing. What's the point of magical gifts if they can't save the one
you love? And what's worse than feeling helpless to save your husband?
Harboring an unforgivable secret.

Loti swears she will take it to her grave, only she didn't expect to be facing it so soon.
Ominous nightmares and psychic attacks have Loti running for her
life and desperately seeking answers. Who's after her? And why?
And does the sexy, broody vampire who has her in his thrall have anything to do with it?
Amazon
**************************************************
Honeymoon for One by Chris Keniston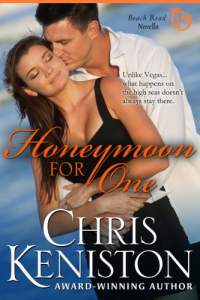 To escape local gossip, jilted bride Michelle Bradford embarks on her honeymoon cruise —alone. Coaxed by a thrill seeking hunk she never expects to see again, she slowly sheds her good girl persona to have some well deserved fun.
But unlike Vegas, what happens on the high seas doesn't always stay there.
More about the contemporary romance Honeymoon For One:
Chris Keniston's love of a good story and frustration with the end of a well known author's romance best seller, drove her to pen her own works of romance and fiction.
The popular themes of small town, family, and cruise ship fun, blended with the story of a jilted bride and workplace romance have kept Honeymoon For One on the Kindle ebook best seller lists and made this contemporary romance a reader's choice.
Amazon
*****************************************************
Shore Excursion (Sidney Marsh Murder Mystery) by Marie Moore
Travel agents may be a vanishing breed, but Sidney Marsh, a New York transplant from Mississippi, is holding her ground--at least on land. She is the tour leader on a cruise through Scandinavia to Russia for a group of eccentric senior citizens who call themselves the High Steppers. Sidney expects her days to be filled with long meals, shopping expeditions and visits to museums, churches and fjords. But this cruise is anything but routine. There is a killer on board, targeting the High Steppers and quite possibly herself. After the first suspicious death, the captain and his crew are grimly determined to carry on as usual. Disgusted with their inaction, Sidney decides to take matters into her own hands and launch her own investigation. She enlists the halfhearted help of her friend and business partner, the flamboyant and fun-loving Jay Wilson. Suspects abound. What about those two handsome young men who stay mysteriously aloof? One of them has his eye on Sidney. So does another passenger, far too charming and again too young to fit the "High Stepper" mold. Then there's Captain Vargos, the arrogant ladies' man whose plans to thwart Sidney's investigation might include seduction. Who is that crew member shadowing Sidney? Is the theater really haunted? Even the High Steppers themselves are not as predictable or harmless as they seem. The closer Sydney gets to the truth, the less she understands. Shore Excursion is the first book in a new mystery series featuring amateur sleuth Sidney Marsh.
Amazon
*****************************************************
Leximandra Reports and other Tales (Draykon Series) by Charlotte E. English
In this four-story anthology, Mr Pitren Warvel makes a mess of his sorcery; a young reporter pursues Lady Evastany Glostrum for an interview; Rikbeek the gwaystrel encounters a spy; and the Sanfaer family develop a new approach to keeping poultry.
Set in the world of the Draykon Series and featuring many of the same characters, these tales discuss life in the Seven Realms prior to the events of the first Draykon novel. The anthology includes 10,000 words of short fiction, and also contains an excerpt from the first novel.
Amazon
********************************************************
Altercation by Tamara Hart Heiner
The FBI promises Jacinta Rivera and her friends that they are safe. Jaci wants desperately to believe them but weeks of hiding from their kidnapper, alias "The Hand", have left her wary. Hidden from the public eye in an FBI safe house, Jaci must reconcile both her father's mysterious disappearance and the murder of her best friend. A betrayal lands Jaci back in the grasp of The Hand, shattering her ability to trust, and leaving her to wonder if she will ever piece together her broken life.
Amazon
********************************************************
Deviant (Blood & Roses) by Callie Hart
Sloane
I'm not proud of the things I've done.
The things I've had to do.
The things I've given away.
but I'd give it all over again to find her.
Even if i die trying,
I have to find Alexis.


Zeth
She wants me to help her,
But I won't.
She wants me to save her sister,
But I can't.
She wants me to be her hero,
But I'm not a good man.

I am her damnation.
*Please be aware that this is a Dark Romance novel and deals with serious themes, including violence and murder*
Amazon
*******************************************************
KISSED by MOONLIGHT (Wild Hunt) by Adrianne Brooks
Phaedra Conners has been in short supply of normal ever since she shoved a car full of explosives off of a parking garage. Domestic terrorism would be an unappreciated skill set on any resume, so she's a little surprised when she gets hired on as the personal secretary of multi-millionaire, Gabriel Evans.
Her new boss isn't your average CEO, and when he finds himself falling for his assistant he knows that he'll have to let her go. Especially if he wants her to survive the week. However, denying himself turns out to be much harder than he thought it would be.
Phaedra has spent most of her life digging up secrets.
But not every door needs to be opened and some skeletons like to howl at the moon.
Amazon
*************************************************
So Much To Learn by Jessie L. Star
"I need to learn," I said in a very small, quiet voice. "You have to teach me…" I faltered here as the whole thing was really just too sordid to put into words. I thought I had a good grasp of the English language, but I had no clue how to put my dilemma to him.
"Teach you…?" He prompted.
"Teach me it!" I finally choked out. "What happens when you actually like the…touching and the….the…fondling and the…it, you know." I had never been so embarrassed in my life. The age old 'you could have fried on egg on my face' adage actually seemed kind of plausible I felt that hot and flustered. But - would you believe it? - Jack still hadn't cottoned on to what I was on about. He looked at me completely blankly and I could almost see his mind whirring as he tried to connect the bits…
After a rather hideous break up with her boyfriend due to her inability to 'put out', Talia bullies her brother's best friend into teaching her the complexities of a 'full' relationship. Turns out uni courses have nothing on life lessons!
Please note this story contains some mature language and content.
Amazon
******************************************************
Saving Forever (Part 1) by Lexy Timms
Charity Thompson wants to save the world, one hospital at a time. Instead of finishing med school to become a doctor, she chooses a different path and raises money for hospitals – new wings, equipment, whatever they need. Except there is one hospital she would be happy to never set foot in again--her fathers. So of course he hires her to create a gala for his sixty-fifth birthday. Charity can't say no. Now she is working in the one place she doesn't want to be. Except she's attracted to Dr. Elijah Bennet, the handsome playboy chief.
Will she ever prove to her father that's she's more than a med school dropout? Or will her attraction to Elijah keep her from repairing the one thing she desperately wants to fix?
** This is NOT Erotica. It's Romance and a love story. **
Amazon
**********************************************************
The Zen Man by Colleen Collins

It's just another ho-hum Christmas party until a murder lands private eye Rick Levine, nicknamed "The Zen Man," in the slammer on first-degree charges...
Released on bond, Rick and his girlfriend Laura have 30 days to find the real killer. In the course of their investigations, they dig for dirt among Denver's shady legal backrooms to its tony corporate centers. Dodging bullets, a kidnapping, trumped-up charges and the FBI's unwanted intervention, Rick and Laura continue tracking key suspects who have motive...eventually learning that true redemption begins at home.
Amazon
*************************************************************
The Upper Zoo by Michael Wolf
There are many kinds of "smart" and many kinds of "wise."
The Upper Zoo tells a story of a twelve year old Jewish boy in the 1960s who is impacted by the life and love of an autistic child with a firm commitment to Jesus. After being placed in a class for under-achievers, Jonathan finds his life changed forever. The book takes an unusual approach, revealing a world of dysfunctional pain and spiritual triumph through the eyes of a twelve-year old boy. Through surprising twists and turns, Jonathan uncovers secrets that will drastically affect his life and the lives of those closest to him.
No one who reads The Upper Zoo will be able to put it down—it is an inspirational and poignant novel.
*************************************************************
Wild-Born by Adrian Howell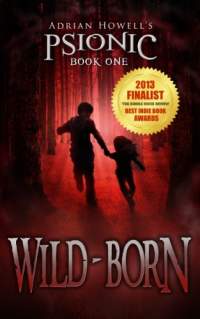 A telekinetic teenager. A telepathic child. A psionic war.

When young Adrian Howell discovers he possesses powerful telekinetic abilities, he is plunged into a sinister world of warring paranormal factions and terrifying government organizations. Adrian must discover what really happened to his missing sister. But to do this, he will first have to find his place among fugitives like himself, and protect the life of a deeply scarred child who can speak only through her mind... a child who will change Adrian's life forever.
(Wild-born is the first book of Adrian Howell's Psionic Pentalogy)

Wild-born was selected as a Finalist in The Kindle Book Review's 2013 Best Indie Book Awards Contest.

Genre: Young Adult, Paranormal, Urban Fantasy
(Recommended for readers aged 13 to 3013.)
*************************************************************
Frailty of Crystal, The Lovket by Breta Swan
**First book in a new immortal love series**

A dark and devious love story for paranormal fantasy fans looking for a whimsical twist on immortal love.

If you like flawed characters, meet Cora...

She has a reluctant Chihuahua as a familiar, a gorgeous and vulnerable neighbor as her only human friend, and a secret assignment in the Ticking Realm. And she's just recovering from a tragic relationship, which left her devastated. She's learned the hard way that taking a mortal as a lover is a very bad idea.

If you like flawed characters, meet Justin...

"...one beautiful male sat before her, a windblown angel of a man who might have fallen from the skies above and drifted to earth like a snowflake. A two-day shadow accentuated his stark, aristocratic features and intense blue eyes. His mass of dark hair gleamed in spite of the obvious aversion to a brush or scissors. He smelled a bit like Geoff..."

When Cora meets Justin on a business flight, she ignores her better judgment and surrenders to passion.

Now things are becoming complicated. Because Cora has secrets...deep and dreadful ones. And it turns out Justin may have a few disturbing ones of his own.

Frailty of Crystal – The Locket is the first volume in a new fantasy/paranormal romance saga, the Ticking Realm Books. In this introductory novella, Cora, a troubled sorceress, meets Justin...the human who could be either her destruction or her salvation.

The Ticking Realm
In the land where time is counted, sorcerers and witches from other realms have bonded with mortal soulmates for ages--but eternal love doesn't always have a happy ending…

Note: Contains references to witchcraft and magic, sexual scenes, and some strong language. Genre: paranormal, fantasy, romance, suspense, horror, new adult.
Amazon
***********************************************