Always remember to double check the price on Amazon as the prices can change at any time.
*********************************************************
Take Back Tomorrow by Richard Levesque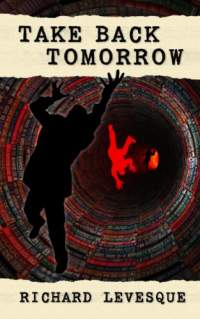 What if all you had to do to make your dreams come true was violate the laws of the universe?
That's not just a philosophical question Eddie Royce has to answer. It's a choice he has to make when the most famous science fiction writer of the 1930s goes missing and his unscrupulous publisher becomes convinced that Eddie knows all of the older writer's secrets--not just the secret of where he's gone, but the secret of how he's traveled in time.
Until now, Eddie's fooled himself into thinking he's got the system figured out, "borrowing" plots from Shakespeare and rewriting them as space operas to make a name for himself in the pulps. But when he finds out that Chester Blackwood--his idol and inspiration--has been cheating the system in ways Eddie could never have dreamed of, the hack science fiction writer finds himself in the middle of a plot that his pulp readers would never have imagined.
Now he has to do all he can to save himself--and Blackwood's beautiful daughter--from the powerful figures who all want Blackwood's secret. And violating the laws of the universe might just be the least of Eddie's problems.
Amazon
******************************************
Daisy Dominatrix by Jennifer L. Hart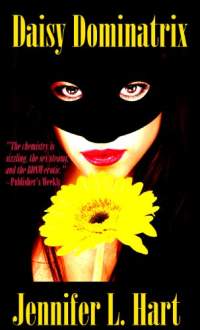 Until Batman strode into Madame Minerva's Dungeon, Daisy Ellis thought she had everything she wanted. Duran Price isn't really the Dark Knight, but both the mild mannered CPA and the Dominatrix who keeps her true identity hidden behind a Catwoman mask desires more than his submission. Fitting a relationship into a double life is a full time job and with a super villainess riding shotgun, the power is up for grabs.
Amazon
***********************************************
First Position by Prescott Lane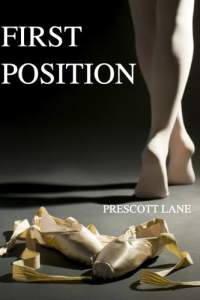 Emory faces life's challenges at the one place that's never failed her, the ballet barre. But even the barre can't steady her when fate brings her face-to-face with her old college flame, Mason, who's hoping to return to the NFL after a career-threatening injury. Before they can surrender to their sexual desires and find salvation in each other's arms, they need to come to terms with their past. Mason must confront the demons that have set him on a path of self-destruction, while Emory must decide whether to keep her painful secrets locked away, or expose them and risk losing the love of her life. But nothing can prepare Mason for what Emory has kept hidden, or the possibility that he himself may be to blame for the very secrets she keeps – and why they continue to haunt her.
Amazon
*********************************************************
Sunshine Hunter
by Maddie Cochere
Chick Lit Mystery - The Susan Hunter books are not your typical mysteries, and Susan is not your typical sleuth. Often, she is simply in the wrong place at the wrong time, and things go downhill quickly. All of the books cross genres of chick lit, mystery, romance, humor, and action, bringing you a fast-paced, easy-breezy read.
Working in a weight-loss center by day and a racquetball club by night, Susan Hunter enjoys her life, the sport, and her friends. ... Sunshine Hunter opens with Susan finding out her new boyfriend of three months is married. To escape the drama, she accepts an offer from her best friend to tag along for a week in Florida. Here the mystery begins, and Susan believes she and her friend are being stalked. She also learns of a murder back home in Ohio and soon finds out she's wanted for questioning. The story takes an adventurous turn when she ends up in the Gulf of Mexico. ... Humorous, sometimes ominous, Sunshine Hunter is quirky and fun!
**********************************************************************
A Stranger in the Family
by Patricia McLinn
A sexy, intriguing stranger arrives unexpectedly at her Wyoming ranch, threatening the one thing Cambria protects more fiercely than her heart - her family.
Bodie's discovery that he fathered a son 17 years ago starts a search that leads him to the warm and welcoming Weston family. But his response to one member of the family is far more than he ever expected. The sparks between him and Cambria are real ... and so is the danger to his hopes for their future if she finds out why he's really in Wyoming.
Amazon
********************************************************************
The Mind Readers
by Lori Brighton
Cameron Winters is a freak. Fortunately, no one but her family knows the truth …that Cameron can read minds. For years Cameron has hidden behind a facade of normalcy, warned that there are those who would do her harm. When gorgeous and mysterious Lewis Douglas arrives he destroys everything Cameron has ever believed and tempts her with possibilities of freedom. Determined to embrace her hidden talents, Cameron heads to a secret haven with Lewis; a place where she meets others like her, Mind Readers.
But as Cameron soon finds out some things are too good to be true. When the Mind Readers realize the extent of Cameron's abilities, they want to use her powers for their own needs. Cameron suddenly finds herself involved in a war in which her idea of what is right and wrong is greatly tested. In the end she'll be forced to make a choice that will not only threaten her relationship with Lewis, but her very life.
Amazon
********************************************************************
Enchanted Immortals (Book #1) by C.J. Pinard
Thomas never thought he would live this long; he expected the usual lifespan of 60 to 70 years. But one terrifying night in 1946 San Francisco has changed all that; he has now been alive 86 years and still looks 20. He and his associates, Jonathan and Kathryn, have been granted Immortality by a group of sylphs belonging to the Zie Council – lead by their queen, Malina – who possess an elixir called Enchantment. But what they and the rest of the Immortals have to do in order to keep receiving this elixir involves protecting sylphs and humans from the faeworlders – vampires and shapeshifters – who want nothing more than to eat, violate, and kill them. For Jonathan, Thomas, and Kathryn, policing the fae is a dirty job, but somebody has to do it. And the payment is eternally priceless.
Amazon
***********************************************************************
Talonfall: A Short Story of the Three Acts of Penance b
y S.G. Night
It has been 106 years since the Demonic Dominion conquered Io. 106 years since they enslaved Humanity, banished the Elves into the mountains, and systematically exterminated the Majiski battle-mages. For the Genshwin -- the underground network of Majiski survivors, a brotherhood of assassins, spies, mercenaries, and thieves -- it is an age of fear, secrecy, and clandestine war against Io's conquerors. But for Jared, a Genshwin of the highest order, there seems to be no end in sight. No hope remaining. No recourse left...but to become one with the Demons.
From the young author of the critically-acclaimed Dark Fantasy bestseller Attrition: the First Act of Penance comes the unspoken tale of the assassin who fell from grace, who would betray everything he knew, everyone he loved...and put Racath Thanjel on the path to becoming the Savior of Io.
********************************************************
Love Amid the Ashes
by Mesu Andrews

Readers often think of Job sitting on the ash heap, his life in shambles. But how did he get there? What was Job's life like before tragedy struck? What did he think as his world came crashing down around him? And what was life like after God restored his wealth, health, and family?

Through painstaking research and a writer's creative mind, Mesu Andrews weaves an emotional and stirring account of this well-known story told through the eyes of the women who loved him. Drawing together the account of Job with those of Esau's tribe and Jacob's daughter Dinah, Love Amid the Ashes breathes life, romance, and passion into the classic biblical story of suffering and steadfast faith.
Amazon
**************************************************
When Lightning Strikes

by Brenda Novak


Simon O'Neal's causing trouble again. And it's up to Gail DeMarco to stop him.

Gail DeMarco left Whiskey Creek, California, to make a name for herself in Los Angeles. Her PR firm has accumulated a roster of A-list clients, including the biggest box office hit of all—sexy and unpredictable Simon O'Neal. But Simon, who's just been through a turbulent divorce, is so busy self-destructing he won't listen to anything she says. She drops him from her list—and he retaliates by taking the rest of her clients with him.

Desperate to save her company, Gail has to humble herself by making a deal with Simon. The one thing he wants is custody of his son, but that's going to require a whole new image. He needs to marry some squeaky-clean girl who'll drag him off to some small, obscure place like Whiskey Creek….

Gail's the only one he can trust. She agrees to become his wife—reluctantly. But she isn't reluctant because he's too hard to like. It's because he's too hard not to love!

**************************************************
Psion Betaby Jacob Gowans
Sammy, a 14-year-old fugitive, accidentally discovers he has the powers of a Psion.
Plucked off the streets, he is thrust into the rigorously-disciplined environment of Psion Beta headquarters. As a new Beta, Sammy must hone his newfound abilities using holographic fighting simulations, stealth training missions, and complex war games. His fellow trainees are other kids competing to prove their worth so they can graduate and contribute to the war effort.
But the stifling competition at headquarters isolates Sammy from his peers. Learning to use his incredible powers is difficult enough, but when things go horribly wrong on a routine training mission, he must rely on the other Betas to stay alive.
The Silent War is at a tipping point; even one boy can be the difference.
But to do so, he must survive.