Always remember to double check the price on Amazon as the prices can change at any time.
TODAY'S FREE BOOKS
Night of the Purple Moon (The Toucan Trilogy - Book #1) by Scott Cramer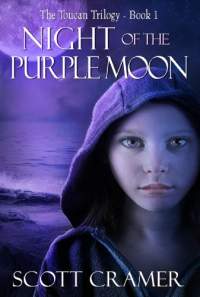 Abby is looking forward to watching the moon turn purple, unaware that deadly bacteria from a passing comet will soon kill off older teens and adults. She must help her brother and baby sister survive in this new world, but all the while she has a ticking time bomb inside of her--adolescence.
(Parental discretion advised for readers 13 and under)
Amazon
*******************************************************
Fashionably Dead (Hot Damned) by Robyn Peterman
Vampyres don't exist. They absolutely do not exist.
At least I didn't think they did 'til I tried to quit smoking and ended up Undead. Who in the hell did I screw over in a former life that my getting healthy equates with dead?
Now I'm a Vampyre. Yes, we exist whether we want to or not. However, I have to admit, the perks aren't bad. My girls no longer jiggle, my ass is higher than a kite and the latest Prada keeps finding its way to my wardrobe. On the downside, I'm stuck with an obscenely profane Guardian Angel who looks like Oprah and a Fairy Fighting Coach who's teaching me to annihilate like the Terminator.
To complicate matters, my libido has increased to Vampyric proportions and my attraction to a hotter than Satan's underpants killer rogue Vampyre is not only dangerous . . . it's possibly deadly. For real dead. Permanent death isn't on my agenda. Avoiding him is my only option. Of course, since he thinks I'm his, it's easier said than done. Like THAT'S not enough to deal with, all the other Vampyres think I'm some sort of Chosen One.
Holy Hell, if I'm in charge of saving an entire race of blood suckers, the Undead are in for one hell of a ride.
AMAZON
******************************************
Six Seconds by Rick Mofina
Add caption
A vengeful woman who aches for her place in paradise...
In Iraq an aid worker who lost her husband and child in a brutal attack saves the life of an American contractor. Believing he can help her avenge her family's deaths, she follows him back home to the United States.
An anguished mother desperate to find her child...
In California a soccer mom arrives to pick up her son from school, only to discover that her husband has taken their child and vanished without a trace.
A detective who needs to redeem himself...
In the Rocky Mountains an off-duty cop rescues a little girl from a raging river moments before she utters her final words in his arms. Haunted by failure, he launches an investigation that leads him to a Montana school where time is ticking down on an event that will rewrite history....
Three strangers entangled in a plot to change the world in only six seconds....
****************************************************
Frozen Past (A Jaxon Jennings Novel) by Richard C Hale
Frozen Past - A Thriller
Luke is only fourteen. Eliana is his whole world and for a fourteen year old, the burden is immense. You see, Eliana is being stalked. Stalked by a madman who wants nothing more than to see her dead. The madman knows things that no one should know and sees things that no one should see. He tells them if they say a word to anyone, they will both die. And Luke can't let that happen.
Eliana's past is catching up with her and Luke must do anything to save her. Anything.
Amazon
*****************************************************
Now and Then (Now Series) by Brenda Rothert
Now Emmaline Carson has settled into her career as a graphic designer, though she'd rather be painting or shopping with her sister Layla. But then – in the years before she went to art school in Paris – she was a shy, awkward teenager with frizzy hair, a flat chest and a massive crush on the boy across the street, Cole Marlowe. Too bad her incredibly hot neighbor only had eyes for Layla.
Cole is now a confident, laid-back attorney who's even hotter than he used to be. He's planning to stay single while working his way up the corporate ladder – until he's knocked off course by a chance run-in with Emma.
Everything is different between Cole and Emma now. He finally sees her in a way she only dreamed of, and their hot chemistry is fueled by a growing friendship. But Emma's deception of her sister – who wants Cole for herself – and the secret Cole's been keeping for more than a decade threaten to tear apart what's only just begun. Because sometimes the only thing standing in the way of now is then.
**Warning** This book contains adult language and situations.
Amazon
*******************************************************
Wrath of the Royals (The Darkslayer - Book #1) by Craig Halloran
WELCOME TO THE UNWELCOME WORLD OF BISH ...
When recklessness provokes a Royal household, Venir and his friend Melegal the thief are forced to flee the city. In pursuit, the Royals soon unleash some unusual powers against them and start to close in. Can Venir and Melegal survive the impending doom that is about to befall them? Only Bish knows, but Venir has been secretly keeping evil forces at bay for years. He is the Darkslayer, a man possessed by a mantle of power he cannot let go.
Enter the underlings, an evil race bent on the destruction of mankind.
Enter the Royals, the self-absorbed rulers of the world of Bish.
Enter the orcs, halflings, dwarves, ogres and other races, some good, most bad, all caught in the maelstrom of treachery and seduction.
Strife and turmoil are constant features of life as humans struggle to survive among orcs, ogres, and the most evil of all--the underlings. As the underlings rally all of the evil forces they can muster to destroy the mystical and legendary Darkslayer, something unexpected has upset the delicate balance between good and evil on the world called Bish, making the Darkslayer a pawn in other insidious disputes.
Amazon
***************************************************
Black Coke by James Grenton
Deep in the jungles of Colombia, a brutal and fast-growing drugs cartel has genetically-modified cocaine to make it ten times more powerful and addictive than any other drug. They call it:
BLACK COKE
Nathan Kershner is an agent with the UK's Serious Organised Crime Agency and a former special forces operative. Often working undercover, he has single-handedly brought down some of the most wanted criminals in the world.
But when he clashes with the drugs cartel and tries to stem the flow of Black Coke into Europe and the US, he finds himself up against his most difficult assignment yet.
On a mission that takes him from the crack houses of North London to the underground drug labs of southern Colombia, Nathan enters the darkest regions of the war on drugs, where treachery, greed and violence reign.
With the drugs cartel growing in power by the day, Nathan has to decide just how far he is prepared to go to avert disaster.
WARNING: THIS BOOK CONTAINS SCENES OF VIOLENCE THAT MAY UPSET SOME READERS.
Amazon
**************************************************
Flee by Miranda Kavi
I can fly. I
have to keep it a secret.
Everything was fine, until I met him.
I can't stay away...
Aurora Lockette has a supernatural ability she hides from the world. Gavyn Dhaval is a newly famous actor that shies away from the spotlight. When Aurora and Gavyn literally collide in a fender bender on her first day of law school, they are irresistibly drawn to each other.
When Aurora's secret is revealed, she has no choice but to abandon Gavyn to go into hiding to escape the media frenzy. A secret society of gifted humans contacts her to warn of dark forces that seek to destroy her and everyone she loves.
Aurora must try to understand who and what she is while she fights to protect herself and her loved ones from a hidden, sinister force.
Amazon
Smashwords
*********************************************
Capturing the Cowboy's Heart by Lindsey Brookes
After losing his wife in an accident two years before, not long after he'd been forced from the circuit by an injury, thirty-two-year-old Cade Tyler, ex-rodeo champion, thinks life has thrown him more than lemons. But life isn't done...it sends him Lacy Dalton.
She's a reporter.
He hates reporters.
She's pushy.
He hates pushy.
She's sexy.
He...well, he just won't let himself think of her that way.
The more Lacy learns about Cade's past, the more she finds herself wanting to prove to him that not all reporters are bloodthirsty vultures. But her growing attraction to him puts not only her heart in jeopardy, but her life as well, because someone is out to ruin Cade and will do anything to make that happen.
Amazon
***********************************************
A Dark Perfection
A Dark Perfection is a genre-bending novel fusing the future technologies of advanced weapon systems, the behind-the-scenes politics of Washington DC with the darkest global killer yet conceived.
Jack O'Neill, former FBI interrogator, has come back to his hometown of Chicago after the death of his wife, where he becomes lead Federal Prosecutor. After the worst terrorist attack in U.S history, O'Neill is ordered to Washington to interrogate the only terrorist survivor – Aisha, the Arab girl with the face of a Siren.
O'Neill is then pulled into a brutal homicide investigation as he aids Detective Keialani Keno, a childhood friend from Hawaii teaching at the FBI Academy, as she attempts to solve a bizarre series of murders. As Keno and O'Neill draw closer to the identity of the killer, they are suddenly framed and become international fugitives. From the Oval Office to the FBI Forensic Lab, from the Scottish Highlands to London and Paris, from Florence to Kauai, O'Neill and Keno race to save themselves and prevent a cascading global catastrophe.
And behind it all, like a hawk circling over prey, is the most lethal serial killer the world has ever known. More intelligent than Hannibal Lecter, more ruthless than Stalin – a killer who wants to murder the entire world.
And who may very well be the Anti-Christ…
Mark James is a former Prosecutor and Special Agent with the U.S. Federal Government.

******************************************
The Grimm Chronicles, Vol. 3
by Ken Brosky
Book 7: The Giant Slayer
Europe: birthplace of Grimms' Fairy Tales. An unfamiliar land, brimming with its own breed of Corrupted who hide in the shadows, growing more evil with each passing day. For modern-day hero Alice Goodenough, this is more than enough to worry about. But she also has a fencing tournament to think about.
And a promise to keep with Sam Grayle, a Corrupted dwarf who schemes for more and more wealth. When their train breaks down in a small town in eastern Hungary, Alice finds the legacy of the hero is alive and well. Corrupted have visited this town before, and they aren't quite vanquished just yet. There's one left, hiding away, biding his time to enact a terrible price on his enemies. A little creature with big, big plans ...
Werewolves. Vampires. Giants. Europe is a different place with new dangers, new monsters and new surprises.
Book 8: Darkness Rising
200 years ago, the Brothers Grimm brought their stories to life.
But why? The question has haunted the heroes for two centuries, and no one has come close to the truth. Alice Goodenough will learn the terrible truth. And it will come at a terrible cost.
The fencing tournament is in just a few short days. Alice's team is hopelessly outmatched, facing off against fencers who have more experience and an inhuman amount of energy. But the other fencers also have a special drug, one that Alice's team can use to even the playing field. Whether they should take the drug or not threatens to tear the team apart.
Meanwhile, Alice must live up to her agreement with Sam Grayle, who lusts after a hidden treasure that once belonged to the Corrupted. Alice must team up with a group of explorers and delve deep into a forbidden cave that holds more secrets than any of them expected.
Book 9: Malevolence
The Malevolence has been biding its time inside Castle Vontescue, but now Alice must finally confront it. The very same evil force that brought the Grimms' fairy tales to life now threatens the hero and all she holds dear. No one is safe in the darkness.
But what, exactly, is this centuries-old creature? To find that out, Br'er Rabbit will have to use all of his wits and decode a series of clues before time runs out. Meanwhile, Alice must keep her friends close and fight through her numerous injuries if she hopes to stop the evil.
But nothing is certain. Alice's body is breaking down. Her loved ones are in constant danger. There is no escape now ... soon, she must face off against the ancient evil that lurks within Castle Vontescue.
And there will be blood.
This volume also contains the following extras:
- The lost diary of Abigail Bauer
- An exclusive introduction

... And the following Grimms' Fairy Tales:
- Hans in Luck
- The Brave Little Tailor
- Tom Thumb
- Twelve Dancing Princesses
- Rapunzel

****************************************
Angela of Troy
Angelina Troy was a woman of legend. Seasoned veterans feared her sword and gods themselves lusted after her body, just as demons in the pits of the darkest hells loathed her and her necromantic power. Nothing, it seemed, could bring her down. Then she met the one man who neither feared her nor desired her. It was that encounter which was the beginning of her ultimate undoing and her terrible fall from grace…
The Juice Lady's Remedies for Stress and Adrenal Fatigue: Juices, Smoothies, and Living Foods Recipes for Your Ultimate Health
by Cherie Calbom
Don't let stress ruin your health.
Fight back with these all-natural juice remedies.
You don't have to suffer with the effects of stress and exhaustion. By simply adding more raw food to your diet, you increase your intake of essential nutrients and decrease the harmful effects of stress and adrenal fatigue on your body.
With recipes and recommendations for healing teas, juices, and smoothies, this quick-reference guide helps you naturally repair, rejuvenate, and reclaim your health. You also get valuable tips on stopping stress and adrenal fatigue at the source, including:
· The connection between chronic stress and adrenal fatigue
· Practical ways to lower your stress levels
· Nine common symptoms of adrenal fatigue
· Seven steps you can take to combat stress eating, and more!

*******************************************
Nashville - Part One and Part Two
Nashville - Part One - Ready to Reach
Nineteen-year old CeCe Mackenzie leaves Virginia for Nashville with not much more to her name than a guitar, a Walker Hound named Hank Junior and an old car she'd inherited from her grandma called Gertrude.
But Gertrude ends up on the side of I-40 in flames, and Nashville has never seemed farther away.
Help arrives in the form of two Georgia football players headed for the Nashville dream as well. When Holden Ashford and Thomas Franklin stop to offer CeCe and Hank Junior a ride, fate may just give a nod to serendipity and meant to be.
Nashville - Part Two - Hammer and a Song
CeCe McKenzie grew up dreaming of a life doing what she loves - singing in Nashville. When she and her Hound dog Hank Junior set out to make her dream come true, life takes some twists she hadn't counted on. Like falling for Holden Ashford, a songwriter with a gift. And also a girlfriend. Can a country music star's hunky son help her forget about Holden? Or is that even possible when her heart insists on writing the song?
**************************************
Gateway to Nifleheim (A Novel of Epic Fantasy) (Harbinger of Doom Volume 1)
The kindle version of Gateway to Nifleheim is on sale for FREE for a limited time, reduced from its regular price of $7.95.

Claradon never led his House's forces into battle before. But now he has to. His father, the mighty lord of Dor Eotrus, went missing, along with all his men, heroes all, while investigating a mysterious fog and otherworldly howling. It's up to Claradon to find him, to bring him home, or to avenge his death if he has fallen. Claradon is a brave young knight -- noble, skilled, and courageous; a warrior born and bred; a northman, tall and strong. But he's not prepared to face the ancient evil that has entered his lands. An evil with powers beyond any mortal's imagination. An evil that threatens to overrun Midgaard and destroy all that Claradon holds dear.