Always remember to double check the price on Amazon as the prices can change at any time.
TODAY'S FREE BOOKS
Crush by Lacey Weatherford
Overview:
He's the bad boy partier with a really BIG secret.
She's the talented girl with BIG dreams for the future.
Neither of them want a relationship.
But sometimes fate has a different plan...
Blurb:
Cami Wimberley has a plan, and that plan includes no room for boys--especially the big time party animal, Hunter Wilder, no matter how handsome and charismatic he is. She's beautiful, a senior, extremely talented, gets good grades, and is working her way toward her dream college to be a musical theater major. Everything is perfect.
Hunter Wilder does not want a girlfriend--that would complicate his life way too much right now. He especially doesn't want this girl, Miss-Goody-Two-Shoes, so how come he can't keep his eyes off her? He tries to keep her at arms length, but fate seems to keep pushing them together. Before long, it's obvious to everyone they're crushing on each other.
As sparks begin to fly, Hunter finds himself sinking deeper and deeper into hot water. Soon he's scrambling to keep Cami from discovering his dark secret--one that can destroy their entire relationship.
Amazon
***********************************************
Everflame by Dylan Peters
Long ago, when the earth was young... Four ancient beings created man to be the bastion of the earth and its creatures. But when The Great Tyrant came and chased The Ancients away, the world was transformed into a place of fear and isolation. Over time humans lost the connection they had with a world they had been created to protect. Now, deep in the forests that surround Gray Mountain, two bears find a small child that is abandoned and left for dead. They name him Evercloud, and raise him as a member of their kingdom. Teaching him the secrets of the elders, they tell him of the ancient beings that created man and the rumors of their return. Evercloud must now go on a quest to return The Ancients to power. However, in another corner of the land, a man known only as The Messenger travels the land under a white hood, on a mission to prevent the return of The Ancients. We follow the paths each of these men take until their stories collide in an epic battle of good versus evil.
Amazon
************************************************
Dangerous by Suzannah Daniels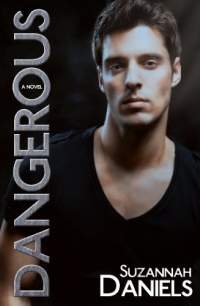 Stone Hamilton had never known fear...until the accident. Since then, his life has spiraled out of control. He's been kicked out of private school, deemed a disappointment by his father, and forced to endure his own guilt, anger, and grief. The last thing he wants is a relationship with someone who will have expectations of him. But once he's enticed by the shimmering-pink lips of the oh-so-popular, academically-excelling, straitlaced hottie from his new school, he knows he's in trouble.
Seventeen-year-old Dara Golding has one goal for the summer: make enough money to buy a car, so that she can drive to school her senior year. After starting a new job, she realizes that she'll be working with the brooding, motorcycle-riding, bad boy who started attending Quail Mountain High last year. With his less than stellar reputation, he's everything she's afraid of...and that makes him dangerous.
Their undeniable attraction has Stone struggling with his inner demons. As Dara slowly allows Stone to claim her heart, a little white lie to cover an ugly truth could determine whether she's his savior or the final straw that will break his sanity.
Amazon | Smashwords
**************************************************
The Twelve Stones by R.J. Johnson
Twenty two years ago, Alex McCray found the first of the Twelve Stones, a set of powerful artifacts left for Humanity to find and use to save Earth from certain destruction.
Returning to his hometown of Onyx, California, Alex reunites with his father who returns the stone Alex found so many years ago. Their reunion is cut short however after Alex's father is murdered by billionaire industrialist Rupert Kline, a madman who will stop at nothing to collect all twelve stones for himself.
Driven by revenge, Alex McCray vows to bring his father's killer to justice and keep the remaining Twelve Stones out of Kline's hands.
A thrilling tale that mixes romance, cutting edge science, and oh yeah, the fate of human civilization.
Amazon
****************************************************
Wild-Born by Adrian Howell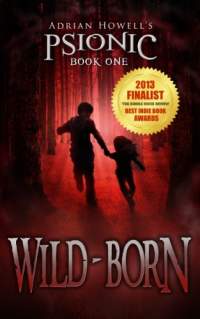 When young Adrian Howell discovers he possesses powerful telekinetic abilities, he is plunged into a sinister world of warring paranormal factions and terrifying government organizations. Adrian must discover what really happened to his missing sister. But to do this, he will first have to find his place among fugitives like himself, and protect the life of a deeply scarred child who can speak only through her mind... a child who will change Adrian's life forever.
(Wild-born is the first book of Adrian Howell's
Psionic Pentalogy
)
Genre: Young Adult, Paranormal, Urban Fantasy
(Recommended for readers aged 13+
Amazon
****************************************************
Annihilate Me (Volume 1) by Christina Ross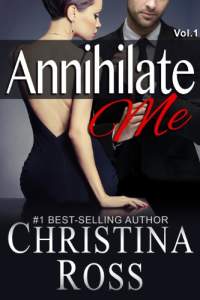 The business of love is dangerous.
For Jennifer Kent, a recent MBA graduate who has been searching for work in Manhattan for four long months, time and money are running out. If she doesn't find work soon, she'll need to return to her native Maine, where the job situation is even more bleak.
And where her abusive parents lie in wait.
But when an unorthodox arrangement is proposed, Jennifer decides to take it. She agrees to be the "girlfriend" of Alexander Wenn, the reluctant, billionaire CEO of Wenn Enterprises, who is so devastatingly good looking, he needs a beautiful woman like Jennifer on his arm to "keep the wolves at bay."
In this case, the wolves are other women, all of whom vie for his attention so aggressively, they keep him from focusing on business at the exclusive events he must attend. It's there that deals are cut. What they want is his money and his power. Damaged by a past event, the only thing Alex wants to do is focus on work. And to forget the past.
But can Jennifer deny their white-hot chemistry? As she's swept into this glittering otherworld of society and big business, she finds herself struggling to keep from falling for Alex, an almost impossible feat she nevertheless must meet.
Armed with her MBA, Jennifer Kent knows about business. But what she doesn't know is what could destroy her--the business of protecting her own heart. And maybe her own life.
Amazon
**********************************************************