Always remember to double check the price on Amazon as the prices can change at any time.
*********************************************************
The Naughty Never Die by L.L. Kellogg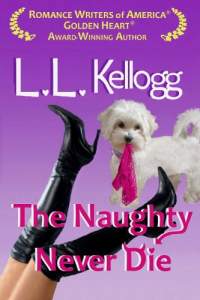 The Beauty
--a chronic people pleaser who's had enough of her goody-two-shoes life
Since her mother's untimely death, crusader Josephine Callahan has served as New Jersey's First Lady. Acting as her father's official hostess in the governor's mansion is tantamount to living in a fishbowl, which makes S-E-X extremely difficult. On the brink of a nervous breakdown, frustrated Josie loses her usual good sense along with her cool and lets her assemblyman boyfriend sweet-talk her into an impromptu romantic getaway--something she would never consider if she had a clue someone is trying to kill her.
The Beast
--an incurable bad boy who refuses to admit beneath his scars lurks a hero.
A deliberately twisted message, via the governor's spiteful assistant, misleads ex Special Forces officer, DJ Ryder, as to the true objective of his freelance assignment. He's told to, not only track down the governor's classy daughter and hold her in protective custody, but to also teach her a lesson by letting her believe she's been kidnapped.
When Josie discovers the scarred, but still sexy, badass has played her for a fool, she retaliates by feigning a raging case of Stockholm syndrome, teasing the brute until all he can think of is the 'hold her' part of his orders. How can Ryder concentrate on keeping Josie safe when he's busy avoiding the danger she poses to his heart?
NOTE: This book has an extra high sensuality level and is not for those seeking a 'sweet' romance.
Amazon
*******************************************************
Daughter of Time by Sarah Woodbury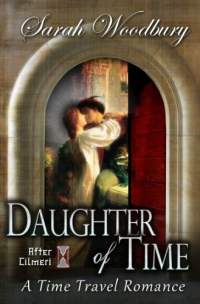 Daughter of Time is appropriate for readers from young teens to adults and is a prequel to the After Cilmeri series:
A medieval man with an uncertain destiny, Llywelyn, the Prince of Wales, faces treachery and deceit at the hands of friends and foes alike ...
A modern woman with a troubled past, Meg's life is in tatters when she slips through time and into medieval Wales ...
Only by working together can Meg and Llywelyn navigate the shifting allegiances that threaten the very existence of Wales--and create their own history that defies the laws of time.
Other books in the series include Footsteps in Time, Winds of Time, Prince of Time, Crossroads in Time, Children of Time, Exiles in Time, and Castaways in Time.
*************************************************
Dragonfly bt Leigh T. Moore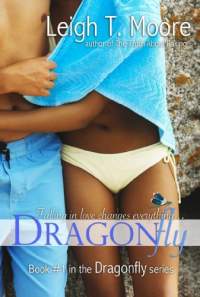 Three bad things I learned this year:
-People you trust lie, even parents.
-That hot guy, the one who's totally into you, he might not be the one.
-Things are not always how they appear.

Three good things I learned this year:
-Best friends are always there for you, even when they're far away.
-That other hot guy, the one who remembers your birthday, he just might be the one.
-Oh, and things are not always how they appear.
Anna Sanders expected an anonymous (and uneventful) senior year until she crossed paths with rich-and-sexy Jack Kyser and his twin sister Lucy.
Pulling Anna into their extravagant lifestyle on the Gulf Coast, Lucy pushed Anna outside her comfort zone, and Jack showed her feelings she'd never experienced... Until he mysteriously withdrew.
Anna turned to her internship at the city paper and to her old attraction for Julian, a handsome local artist and rising star, for distraction. But both led to her discovery of a decades-old secret closely guarded by the twins' distant, single father.
A secret that could permanently change all their lives.
Recommended for readers 14+ for mature situations and sensuality.
Amazon
****************************************************
Deep Blue Secret (The Water Keepers, Book 1
) by Christie Anderson
Deep Blue Secret is Book 1 of the Water Keepers series
A sweet, mysterious teen romance with a refreshing fantasy twist.
California teen Sadie James thinks her life couldn't get any better. She has great friends, an energetic mother she adores, and the beach practically in her own backyard. But her carefree life is turned upside down when she's rescued by a mysterious and strangely familiar boy who won't even tell her his name. Each time the boy appears, Sadie's unexplainable attraction to him deepens along with her need to unravel his secrets. The boy is there to protect her, but as wonderful and exciting as it might be to have an irresistible boy with crystal green eyes protecting her every move, every minute of the day...why does Sadie need one? As Sadie finds answers, she realizes her life isn't as perfect as she thought. Not only is she caught in a world of dangerous secret agents she never knew existed, but it turns out her true identity may be the greatest secret of all.
READING LEVEL: Teen, Young Adult (Mild violence, NO explicit sexual content or profanity)

********************************************************
Sara's Game: Book One (The Sara Winthrop Series)
by Ernie Lindsey
Two years ago, Sara's husband left for the gym one morning...and never came back. His car was found. He wasn't. Unbelievably, the police report said, "No foul play suspected." There were a few unreliable sightings over the following months, but little else.
Now, on the last day before summer break, her three children have gone missing from their schools, all at the same time.
And the note under her windshield wiper asks one foreboding question:
Are you ready to play the game?
Amazon
************************************************************
Jenny Pox (The Paranormals, Book 1)
by JL Bryan
Eighteen-year-old Jenny Morton has a horrific secret: her touch spreads a deadly supernatural plague, the "Jenny pox." She lives by a single rule: Never touch anyone. A lifetime of avoiding any physical contact with others has made her isolated and painfully lonely in her small rural town.
Then she meets the one boy she can touch, and her life begins to change. Jenny feels herself falling for him, but first Jenny must learn to use the deadly pox inside her to confront her new enemy, a girl who secretly wields the most dangerous power of all.
*********************************************************
Life, Love, and a Polar Bear Tattoo (Toronto Series
#1) by Heather Wardell
When Candice's in-laws were killed eight months ago buying a huge faux polar bear rug for her Christmas present, she lost more than just two of her favorite people: she lost her husband Ian as well. After only two years of marriage, their guilt and pain have left them living together but apart, unable to really talk for fear of what they'll say to each other.
Ian leaves for a month-long contract overseas, and Candice plans to use the time apart to decide whether her marriage can be saved. When her ex walks back into her life as the new client at work, ten years more attractive yet saddened by his own recent loss, she's left wondering what she really wants from life and love.
************************************************
UnEnchanted (An Unfortunate Fairy Tale - Book 1) by Chanda Hahn
Mina Grime is unlucky, unpopular and uncoordinated; that is until she saves her crush's life on a field trip, changing her High School status from loser to hero overnight. But with her new found fame brings misfortune in the form of an old family curse come to light. For Mina is a descendant from the Brothers Grimm and has inherited all of their unfinished fairy tale business which includes trying to outwit a powerful Story from making her its' next fairy-tale victim.
To break the fairy tale curse on her family and make these deadly occurrences stop, Mina must finish the tales until the very Grimm end.
**************************************************************
The Mystery Box by Eva Pohler
Soccer mom Yvette Palmer lives an ordinary life in San Antonio, Texas when a box is delivered to her by mistake, and in taking it to its rightful owner—a crotchety neighbor named Mona who shares her back fence—is drawn into a strange and haunting tale.
Mona's ratty robe, mood swings, and secretive behavior all raise red flags, and Yvette is sure someone else is living there despit Mona's claim to live alone, but Yvette is unable to break away as she listens to how Mona transformed from a young college woman about to be married to the odd, reclusive, ghost of a woman she is now.
As Yvette listens to her neighbor's tale, she discovers a shocking connection, but doesn't know whether Mona's come to help or to harm her and her family.
******************************************************
Weightless

by Michele Gorman
Sometimes looks can be deceiving.
Annabel's not surprised when nobody recognizes her at her 10 year reunion. The spotty fat teen nicknamed AnnaBall by the school bullies is long gone. But standing on the edge of the popular crowd, she still feels like that girl. That is, until Jack, her teen crush, starts flirting with her. Much to her amusement, he has mistaken her for Christy Blake, Annabel's chief tormenter before she moved to France in their last year.
It's just a bit of fun at first, letting Jack believe she's Christy. After all, he was nuts about her before she said au revoir to England. And when he asks Annabel out, the fun becomes something even more interesting. The more they date the deeper they fall for each other. So what if Annabel has to fib a little to keep up the façade?
As the lies start compounding, and she realizes that they're falling in love, she has to tell him who she really is. But she'll lose the love of her life if she does.This is a short story of approximately 40 pages.
Amazon
***************************************************
Lunera: Seth and Chloe by Wyatt Davenport
Unique and distinct in setting and style, Lunara takes the reader on a space adventure set in our solar system. This full length novel (388 print pages) is a mix of action adventure and space opera.
Earth is dead, destroyed by a barrage of meteors. What was left of the population has escaped to Mars and colonized it as humanities new home.
Lunara, a small colony on Earth's moon, is charged with catching and mining meteors for desperately needed minerals. But the deep-seated human thirst for domination is not easily defeated, nor is the capacity for deceit and betrayal. All it needs is a powerful catalyst, a prize valuable enough to risk plunging mankind into another destructive war.
Parker McCloud and his friends, Seth and Chloe, are caught up in a violent series of events when Lunara is invaded. On Mars, Parker, Seth, Chloe, and the crew of the Protector attempt to sort out who is responsible, where the tide of suspicion swings back and forth between Aethpis and Zephyria.
In the end, we see barbarism by the leaders of Mars, great courage by the crew of the Protector, and immense valor by the military on Lunara in adventure one in an exciting new series.
Lunara Series Books
Original Trilogy:
Lunara: Seth and Chloe
Lunara: Gwen and Eamonn
Lunara: Parker and the Protector
******************************************************************
Vegas or Bust: An Aggie Underhill Mystery by Michelle Ann Hollstein
With bleached blonde hair piled on top, an oversized pocketbook to match every outfit, Aggie's ready to have some Las Vegas fun.
Desperate to escape her two unwanted houseguests visiting from England, Aggie accepts a wedding invitation for a couple whom she'd met on a cruise. Selfishly, she pawns her guests off on her daughter and forgets that the Thanksgiving holiday is just days away.
Join Aggie in a quirky yet comical escapade where the bride allegedly gets cold feet, the groom vanishes into thin air, a hefty ransom is demanded, and the need for insatiable snooping becomes a must.
Can Aggie solve this mystery in time for Thanksgiving dinner?
********************************************************************
The Legend of Zelda: Forgotten Goddess by N Felts
A Fan-Fiction novel based on the video game series. Chronologically following the events of Twilight Princess, Forgotten Goddess tells of a young boy on a familiar journey. Through forests and deserts, into temples of fire and shadow he must overcome obstacles never imagined. Every evil ever faced through the darkest moments of Hyrule's...
***************************************************************************
A Shadow in the Flames: Book One of the New Aeneid Cycle b
y Michael G. Munz
Northgate is in turmoil.
Decaying, violent and corrupt, it is a common enough city in the mid twenty-first century, yet discoveries beneath the Moon's surface have marked it with their first distant echoes.
Into Northgate has come Michael Flynn. Jobless and down to his last few dollars, Michael still dreams of making a positive difference of his own. Yet he has no family, no friends save for the freelancer known only as Diomedes, and tonight the apartment they share will burn to the ground.
When Diomedes becomes his mentor in a search for the arsonist responsible, Michael will get his chance to realize those dreams. But he must face dangers far more personal than fire if he is to succeed, for like a shadow in the flames, neither arsonist nor mentor may be what they appear.
And the ones who search the Moon will be watching.
******************************************************
Ferius Foxfur and the Bottle of Violet (The Story of Eras) b

y Ryan D. Clements
Magick left the world long ago. The mighty spells and mountainous enchantments of past ages are nothing but decaying words that rot by the day. But that doesn't stop the young student healer, Ferius Foxfur, from seeking them out. Even though he cannot command them -- not even the simplest trick.
But in swathes of moonlight and a chilled wind, Ferius will stumble upon a creature that has no business living near man. And this encounter will grant the boy a terrible power generations in the making.
This is the first short story of Eras, a series of tales by Ryan D. Clements that will piece together a much greater world, brick by brick, town by town, soul by soul.
Be part of a growing realm of new fantasy, written in tribute to the great minds and pens that have come before.
Short story approximately 6,700 words in length. Contains brief descriptions of violence.