Always remember to double check the price on Amazon as the prices can change at any time.
*********************************************************
DARK LUMINANCE by E.M. MCDOWELL
Quantum energy. Unlimited power. Humanity's salvation.
The Frameway Project promises all of this and more, and Mackland Luther is guiding the project to its final culmination. On the eve of what promises to be their biggest breakthrough, Mackland and his friends, Billy and Sean, prepare the test that will provide the almost limitless power needed to take the human race into the future.
Initial success and excitement quickly turn to horror as the Frame goes out of control, ripping Mackland and his friends from their world and depositing them in a world that is completely different yet strangely familiar. Along with Lily, a hard-charging security guard that was caught by the Frame along with them; and Grizzly, a rough yet gentle survivalist they meet in this new world, Mack and his friends must figure out some way to understand and undo whatever brought them here if they ever want to return to their own world.
But first they must survive an increasingly dangerous world full of undead drug addicts, giant mutants, and a relentless telepathic madman who will do anything to get his hands on the Frame for his own purposes.
*********************************************************
Only In Dreams by Wendy Owens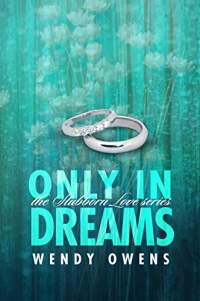 Paige Parker thinks she has everything figured out. Even though her heart is broken, she manages to find love again, and she's sure this time it's for keeps.

Between planning her wedding and working on garments for her upcoming debut fashion show, Paige is overwhelmed. When her fiancé, Henry, suggests a couple months away from the hustle and bustle of the Big Apple to focus, she is thrilled to use the opportunity to reconnect with her best friend, Emmie.

Paige heads to Texas, ready to spend some quality time with Emmie and her baby girl, Olivia. When she arrives, she is shocked to find herself face-to-face with Christian Bennett, the man who broke her heart.

She finds herself confused. Is she truly over her first love? Is she making a mistake marrying Henry? Paige follows her heart, but this may be the most painful decision she ever makes. It leaves her wondering if true love is possible ONLY IN DREAMS.
*This book contains mature situations as well as some mature language.
**************************************************
Camille by Tess Oliver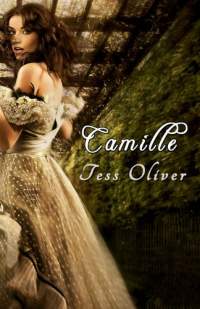 His long, black lashes fluttered down as he brazenly reviewed the rest of me. He straightened and placed a hand on either side of my head, effectively trapping me against the wall. "Explain."
His nearness made my head spin. I swallowed. "I--I came to tell you, you are in grave trouble."
Strider squinted hard at me then threw his head back with laughter. Obviously assuming I wouldn't run, he dropped his hands and crossed his arms over his chest. "Lass, I must tell you," a crooked smile punctuated his words, "I am always in grave trouble."
DESCRIPTION:
At a time when society conforms to the strictest rules and most proper etiquette, sixteen-year-old Camille Kennecott and her guardian, Dr. Bennett, live a most unconventional life.
They hunt werewolves.
When unwitting victim, Nathaniel Strider, wanders into one of their full moon pursuits, Camille and Dr. Bennett believe they have found a specimen for their study. Finding a scientific key to unlocking the mystery of lycanthropy would end their late night excursions. Yet beneath the irresistible exterior, Nathaniel is transforming into a flesh-tearing monster, and as each experiment fails, Camille loses another inch of her soul to him.
In a month's time, she must face the prospect of destroying the boy who has stolen her heart.
***************************************************
Old Habits (Insight Surveillance) by Maggie Katz
Leila Matapang wrestled with the poverty line for ten years, and then the letter arrived. Now she finds herself trapped in an extortion plot to save her own career orchestrated by the arrogant, yet oddly philanthropic P.I. Aleksander Vold. To make it out alive she will have to learn to exploit others, evade capture, and come to terms with her childhood psychosis. The further she probes, the more she wonders if there is any fiction left in the supernatural world she's discovered.
******************************************************
Twin Souls (Nevermore - Book #1) by K.A. Poe
Seventeen year old Alexis finds herself on the eve of her eighteenth birthday. What generally means a step into adulthood instead opens its way to a terrifying truth about not only her family, but herself. She comes from a long line of vampire hunters, and her real dad wants her to carry on the family quest. At the same time, she is falling for a new boy at school who has his own secret. He is a vampire. Alexis is forced to make a decision from which there is no turning back. - Will she deny this newly discovered heritage, or embrace it.

The Series:
**************************************************
AMP Messenger by Stephen Arseneault
In a distant galaxy, Humans are on the run...
The first book in the
AMP
series. For a thousand years Man has fled from an enemy that is bent on his annihilation. The only real defense is his home, a great station called the Grid with a faster than light drive that is unmatched for speed. Don is a Messenger not a hero. But ordinary men sometimes have a way of rising to a challenge. War is coming and fate will place Don and his ship, a Blevin class Defender, smack in the middle of the fight. Is Man ready for the 43rd Milgari war? Don Grange doesn't think so!
Amazon
******************************************************
The Choosing (

Blood and Brotherhood Saga - Book #1) by Jeremy Laszlo
Seth is a young man torn by fear and indecision. His life no longer in his hands, he fears an uncertain future where the only certainty is a life of servitude to the kingdom. Fortunately for Seth, he is not alone. His brother Garret too attends the choosing ceremony where their fates will be decided. Together the twins make their way to the castle city of Valdadore for the choosing ceremony but along the way Seth notices a strange new trend in his life. Time after time strange circumstances befall him in what others might call a coincidence, but Seth knows something else is amiss and begins mentally cataloging each new and strange event. Learning his past is all a lie, Seth begins to fear more for his future as a dark goddess vies for his service to her cause. Seths loyalties and responsibilities begin to stack up as he makes friends and allies and even falls in love, but with the choosing ceremony growing ever nearer will he be forced to flee the kingdom into a life of exile, or choose to serve the goddess who swears that only through her will he find peace.
******************************************************
Keys to the Coven (

A Hellfire Universe Contemporary Urban Fantasy) b

y Vicky Loebel
Get ready for Keys to the Coven, a tightly plotted, witty urban fantasy/romance set in an original universe where karma is power, sex is karma, and it's not who you know but whose soul you own that matters.*
To become a demon, you must die in complete and utter despair
. Three hundred years ago, Max passed that test with flying colors and joined the afterlife resolving never again to have innocent blood on his hands. Now Max has been given the job of breaking a young witch's family curse. But what she doesn't know, what Max can't bring himself to tell her, is that completing his mission almost certainly means her death.
--------------------------
*Caution: This book contains violence, strong sexual themes, moderately explicit sex between consenting adults, (unfulfilled) threats against children, and one completely gratuitous reference to unicorns.
************************************************************
Drowning Mermaids (Sacred Breath - Book #1) by Nadia Scrieva
She is an elegant princess displaced from her home. He is a rough sea captain with a heart of gold...
To escape the war in her underwater kingdom, the noble daughter of a murdered king must flee to Alaska. Doing all she can to keep her younger sisters safe, Aazuria tries to assimilate and work among the Americans, with her feisty red-haired bodyguard at her side. This refuge holds pleasant surprises, for the princess meets a somber gentleman in a dark corner who promises to show her his world.
Trevain Murphy is a successful crab fisherman who has spent his life building an empire above the sea, but knows nothing of the greater empire beneath the surface. When a graceful dancer captures his attention, he becomes fascinated with her old-fashioned speech and unique mannerisms. Learning that her father has recently died, he cannot resist extending his kindness in offering to guide and protect her.
As it becomes clear that the dark-haired woman is much more than she seems, Trevain is unprepared to uncover the staggering secrets behind her innocent facade. Neither the captain nor the princess can imagine that their lives will become forcibly entwined as a common enemy threatens both of their worlds...
**************************************************
The Trouble With Goodbye (Fairhope - Book #1) by Sarra Connon
The trouble with goodbye is that sometimes it's about courage and sometimes it's about fear. And sometimes you're too broken to know the difference until it's too late.

Two years ago, Leigh Anne Davis shocked everyone in tiny Fairhope, Georgia when she broke up with her wealthy boyfriend to attend an Ivy League university a thousand miles away. At school, she finds a happiness and independence she's never known.

Until one terrifying night takes it all away from her.

With no place else to go, Leigh Anne heads home to reclaim her old life. A life she worked so hard to escape. On the outside, she seems like the same girl everyone has always known. But deep inside, she's hiding a terrible secret.

That's when she meets Knox Warner, a troubled newcomer to Fairhope. His eyes have the same haunted look she sees every day in the mirror, and when she's near him, the rest of the world fades away. But being with Knox would mean disappointing everyone all over again. If she wants to save what's left of her old life, she no choice but to say goodbye to him forever.

Only, the trouble with goodbye is that sometimes it's about courage and sometimes it's about fear. And sometimes you're too broken to know the difference until it's too late.



**Due to mature themes and some sexual content, this book is intended for ages 16+**



Each book in the Fairhope series stands alone, but has recurring characters. Read them in order to get the most out of this series and to see updates on each couple as the series progresses!
**********************************************
The Thirteenth Unicorn (The Ben Alderman Series) by W.D. Newman
While spending the summer with their grandparents on a remote farm in South Carolina, Ben Alderman and his sister Casey uncover a hidden world of magic; a world their grandmother is secretly visiting. It is a world where elves and dwarves are locked in mortal combat against a witch who is trying to free the last surviving wizard from exile. The witch has been defeated once before but with the combined power of the wizard, no one will be able to stand against them. Much to Ben's dismay, he learns that he is the one foretold in the ancient elfin prophecies to bring about the downfall of the witch and save this exciting new world from destruction.
******************************************************
Pretty in Black (Pretty in Black - Book #1) by Rae Hachton
Welcome to the Dark and Haunting World of Nevermore.




I never really wanted to die. But I followed through anyway. The pain in my heart was excruciating, and death was beautiful.

Ellie Piper meets a mysterious guy in a cemetery. He doesn't have a shadow. He doesn't crave her blood. He's not allergic to the sun.
But he's a vampire. One who has resurrected from the dead, and has desires to make her immortal.
In this darkly romantic world of raven and crow shapeshifters, emerges a different take on the classic VAMPIRE.

Would you Frolic in the Land of Forever With Me
******************************************************
ALTDORF (The Forest Knights - Book 1) by J.K. Swift
A wild land too mountainous to be tamed by plows...
A Duke of the Holy Roman Empire, his cunning overshadowed only by his ambition...
A young Priestess of the Old Religion, together with a charismatic outlaw, sparking a rebellion from deep within the forests...
And an ex-Hospitaller caught between them all.
"Re-imagining the William Tell legend--without William Tell."
At the end of the thirteenth century, five hundred orphans and second sons are rounded up from villages in the Alpine countryside and sold to the Hospitaller Knights of St John. Trained to serve as Soldiers of Christ, they fight in eastern lands they know nothing about, for a cause they do not understand.
Thomas Schwyzer, released from his vows by the Grandmaster of the Hospitallers, returns to the land of his birth a stranger. Once a leader of men, and captain of the Order's most famous war galley, he now settles into the simple life of a ferryman. He believes this new role to be God's reward for years of faithful service fighting the Infidel in Outremer.
Seraina, considered a witch by most, a healer by some, is a young woman with a purpose. A Priestess of the Old Religion, and the last Druid disciple of the Helvetii Celts, she has been gifted by the Great Weave to see what others cannot. Her people need her guidance and protection now more than ever. For Duke Leopold of Habsburg, in his efforts to control the St. Gotthard Pass, builds a great Austrian fortress in Altdorf. Once finished, the Habsburg occupation will be complete, but the atrocities visited upon her people will have just begun.
Set in medieval Switzerland, ALTDORF, a novel of The Forest Knights, is the first book in a two-book series.
Amazon