Always remember to double check the price on Amazon as the prices can change at any time.
TODAY'S FREE BOOKS
This is a contemporary, modern romance and does contains sex.
The author of the romance classic
A Love of Her Own
brings you a new, unforgettable love story...the first in a three-book connected storyline that includes
Something Real
and concludes with
Man of Her Heart
.
THE LAW AND THE LADY . . .
Graphic artist Genevieve L'Esperance has got it all together, even by tough New York standards: A thriving career, a spacious Upper East Side condo, even a sort-of boyfriend named Barry. But the one thing she
doesn't
have is something Americans take for granted . . . and if she's found out it'll mean the end of life as she knows it. And now the law is closing in on her...
THE LADY AND THE LAWYER . . .
Gen's friend Barry comes up with a solution and quickly moves her to a rented room uptown while he finalizes arrangements to keep her safe. While Gen is grateful to him, she can't help feeling that she's sold out her future. But then Barry's master plan gets delayed, and when she meets Dexter Gray, the struggling law student who occupies the other room on the floor, things
really
start to get complicated...

**************************************
Benjamin McConnell, Silver Shroud
Before I start, I must point out that I'm a spellweaver, not a storyteller. I've been nagged into doing this, and I'm still not completely convinced it's a good idea. I'm not about to attempt to pen any long epic tome detailing all my adventures. I'll leave that to someone better suited to the task. What I am going to tell you is how I became the cursed werewolf I am, how I met Angela of Troy, and how I got tangled up in the biggest adventure of them all… (Benjamin McConnell, Silver Shroud Werewolf)
**************************************************
When Lightning Strikes (Whiskey Creek - Book#1)
Gail DeMarco left Whiskey Creek, California, to make a name for herself in Los Angeles. Her PR firm has a roster of A-list clients, including the sexy and unpredictable Simon O'Neal. But Simon, who's just been through a turbulent divorce, won't cooperate, so she drops him from her list—and he retaliates by taking the rest of her clients with him.
Desperate to save her company, Gail makes a deal with Simon. What he wants is custody of his son, but that's going to require a whole new image. He needs to marry some squeaky-clean girl like Gail, who'll drag him off to some small, obscure place like Whiskey Creek…. Gail reluctantly agrees to become his wife. She isn't reluctant because he's too hard to like. It's because he's too hard not to
love
!
For more Whiskey Creek stories, check out
When Snow Falls, When Summer Comes, Home to Whiskey Creek, Take Me Home for Christmas
and
Come Home to Me
.

********************************************
Hope(less) by Melissa Haag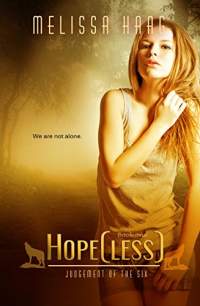 Our world is being judged and we remain unaware.
In a world filled with people, Gabby is uniquely alone. The tiny glowing sparks filling her mind, representing the people around her, confirm it.
Clueless regarding the reason behind her sight and her place in the world, Gabby struggles to find an explanation. A chance encounter leads her closer to answers she's struggled to find, and into a hidden society where fur is optional. An introduction sends her running back home without the answers she wants - and not quite alone.
Gabby tries to ignore Clay, the werewolf delusional enough to follow her home thinking he has a chance with her, while continuing to search for answers on her own. Her problems compound when other werewolves, ones with abnormal sparks, start stalking her. Instead of gaining answers, her list of questions is growing. When she finds the answers, her life will never be the same.
A SEALS's Surrender by Tawny Weber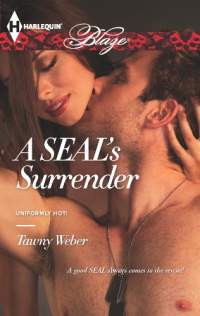 Subject: Lieutenant Commander Cade Sullivan
Status: On leave
Mission: He's home to take care of some family business.
Obstacle: Eden Gillespie. The girl who always lands in trouble…has landed in his bed!
Lieutenant Commander Cade Sullivan is the job. His commitment to the Navy SEALs is absolute—almost. Worse still, he's been summoned home, where his family is the town royalty and women vie to be one of Cade's conquests. One of them in particular….
Ever since they were kids, Cade has been rescuing Eden Gillespie. Now she's decided she owes him one heck of a thank-you—one that involves a bed, naked bodies and sweet satisfaction. But when their sexy trysts are discovered, Eden becomes a bit of a town sensation—and not in a good way. Can she convince her SEAL to risk one last rescue operation?
Amazon
**********************************************
The Viking by Marti Talbott
At not quite fifteen, Stefan's father finally let him board the longship, Sja Vinna, to take part in his first Viking raid. Yet, the battle was not at all what he expected, and he soon found himself alone and stranded in Scotland.
Thirteen-year-old Kannak's situation was just as grave. Her father deserted them and the only way to
survive, she decided, was to take a husband over her mother's objections. Instead, she found herself hiding a hated Viking, and that wasn't the only problem - someone was plotting to kill the clan's beloved laird.
Marti Talbott's books are suitable for ages 14 and over.
Amazon
**************************************************************
A Hidden Fire by Elizabeth Hunter
No secret stays hidden forever.
A phone call from an old friend sets mysterious book researcher Giovanni Vecchio back on the path of a mystery that has eluded him for centuries. Little does he suspect a young librarian holds the key to an ancient secret, nor could he expect the danger Beatrice De Novo would attract.
Now both will follow a twisted maze leading from the archives of a university library, through the fires of Renaissance Florence, and toward a passion that could destroy them both.
Amazon
*********************************************************************
The Life and Death of Lauren Conway:
A Companion to Without Mercy
By Lisa Jackson
Go inside the dark history of the Blue Rock Academy and learn more about the twisted past that made this school a hunting ground for a ruthless killer...and what became of one of the school's most infamous alumni in this companion to the
New York Times
bestseller WITHOUT MERCY.
From #1 New York Times bestselling author Lisa Jackson comes a pulse-pounding thriller that goes behind the doors of an exclusive academy with a terrifying secret. . .
Ever since her father was stabbed to death in a home invasion, Julia "Jules" Farentino has been plagued by nightmares. Her half-sister, Shaylee, now seventeen, has had her own difficulties since the tragedy, earning a rap sheet for drug use, theft, and vandalism. Still, when Jules learns of her mother's decision to send Shay to an elite boarding school in Oregon, she's skeptical. The Academy has a reputation for turning wayward kids around--but one of its students went missing six months ago and her body has never been found. There are rumors she may have died during one of the school's questionable treatments. Once enrolled, Shay grows fearful, convinced her every move is being watched. And the deeper Jules digs, the more concerned she becomes.
On impulse, Jules applies for a teaching job at the Academy. Though the facility boasts state-of-the-art equipment and a breathtaking campus, Jules senses cracks in the director's do-good demeanor. Shortly before Jules arrived, a student was found hanged, and a hysterical Shay believes it was murder. Staff members are wary and unwelcoming--all except Cooper Trent, another recent hire who has his own suspicions, and his own secrets.
Then another girl goes missing, and yet another is found dead. There's no doubt something sinister is at hand--but Jules may be too late to stop it. Behind the Academy's idyllic veneer lurks an evil force on a brutal and terrifying mission. And Jules has become the next target of a bloodthirsty killer without limits, without remorse, without mercy. . .
Amazon
*****************************************
The Fall (The Rift - Book #1) by Robert J. Duperre
An ancient evil, trapped in the ruins of a lost Mayan temple for centuries, has been unleashed. It takes the form of a deadly virus that causes violent insanity in the living and the recently departed to rise and walk. The blight spreads around the globe, throwing the world into chaos and war.
Regular people are hurled into an existence outside their control, left to deal with a terror they aren't prepared to handle. Life becomes a nightmare, and that nightmare is spreading.
Amazon
************************************************
Shatter (St. Martin Family Saga - Book #3) by Gina Watson
She instantly fell in love with his sexy charm and so will you!
Smart men are hot. Sexy smart men are even hotter. Erotic cocky genius millionaires are irresistible!
Logan St. Martin's family is rich, which pretty much makes him rich, but he is successful twice over in his own right. He finished in the top five percent on his board exams and is a licensed pediatrician. Only thing is, he doesn't practice. After completing his residency he left medicine behind to pursue his passion. He is the successful owner of the Good Doctor Brewery in Whiskey Cove, Louisiana. He's rich, successful, and devastatingly handsome. He's also tormented by his past.
Jessie's restaurant is headed for financial ruin. Too bad there's not a handsome witty genius that can help her capitalize on her strengths. Oh wait . . . Logan enters her world with guns blazing. He's like a tornado and she is powerless to stop the attraction that sparks when they meet. The sex is wonderful and his expertise priceless. She's falling hard and fast, but when Logan receives information about his past things spiral out of control.
Can Jessie save Logan from the demons of his past?
˃˃˃ Nice girls don't have sex with strange men.
She'd known him for fifteen minutes and then they had raunchy sex in her office. It was easy enough to figure out what had driven her to do it. His sexy cocky grin and bronzed skin made her weak. She'd have to remember that.
˃˃˃ He wondered if she held herself back in the sack like she did when she was managing her office affairs.
After their encounter in her office he had his answer . . . no, she didn't hold herself back. The woman was a goddess and she'd given him everything she had.
Amazon
********************************************
Immoral (Tales of a Vampire Hunter - Book #1) by Zander Vyne
Sometimes, the only person you can rely on is the last person you should fall for...
A VAMPIRE HUNTER BREAKING ALL THE RULES
Falling for a mysterious vampire girl is crazy, but Oliver Ripley breaks away from his controlling family of vampire hunters determined to make his own rules . . . and he's starting with her.
A VAMPIRE DESPERATE FOR ANSWERS
His allure is like catnip, but is he casting a vampire hunter's bewitching spell or does he really want to help her? Falling for him could kill her, but she's powerless to resist him.
STAR-CROSSED LOVE
They don't know someone is manipulating them, determined to find out exactly what they're capable of. When the truth leaves them nothing to hold onto but each other, they're forced into a partnership neither expected. Or wanted.
THE TRUTH MIGHT KILL THEM, BUT FIRST THEY'LL HAVE TO SURVIVE EACH OTHER...
Immoral: Tales of a Vampire Hunter #1 is a hot paranormal thriller for mature readers only (18+)
*************************************************
GAMELAND Episodes 1-2 (S. W. Tanpepper's GAMELAND)
6 Hackers, 1 Game... and 10,000 Undead.
Everyone loves
Survivalist
, a live-action, virtual reality show based on Arc Entertainment's
The Game
, where cybernetically controlled zombies do battle in a video arcade in the middle of a Long Island wasteland. It's to die for.
If you're rich enough, you can buy your way in. If you're desperate enough, you can volunteer to become one of the Undead Players. Jessie Daniels and her gang of computer hackers plan to break their way in.
Welcome to GAMELAND. Access Restricted.
EPISODE 1: Deep Into The Game
A reckless, end-of-summer plan leads Jessie and her friends onto Long Island hoping to catch a glimpse of the infected victims of a decades-old outbreak. But while breaking in might be easy, getting back out is a hell of a killer. It doesn't take long before they realize they're part of
The Game.
EPISODE 2: Failsafe
Jessie and Kelly clash after one of their group gets stranded among the Infected Undead, forcing Kelly to make a rash decision which will ultimately deliver them into the hands of those who would turn them all into mindless players in
The Game.
Deep into the Game
and
Failsafe
are the first two books in the hi-tech dystopian thriller GAMELAND. Structured on television's
The Walking Dead
and
Law and Order
, the nearly 400,000-word series consists of eight individual episodes, first published monthly between May and December 2012. All are available digitally in single and multi-episode packages, as well as in an omnibus edition. Also available in print.
Not recommended for readers under age 15.
Amazon
**********************************************
Jack Gordon is Ann Arbor's most delectable bachelor. At age thirty-five, he's made millions as a top-selling Ann Arbor real estate broker and has the right connections to close a deal by any means necessary. With his rugged good looks and compelling personality, he has a virtual black book most men would kill for and he uses it often, never settling for one woman for very long.
While his D/s past remains buried, exactly where he wants it, an undercurrent of boredom and dissatisfaction runs through his life now. A disastrous experience years earlier made him swear off the whole scene, but the more Jack suppresses his natural Dom, the more his frustration grows.
Sara Thornton, a rookie in the real estate game, has fast-tracked herself to the top of the Ann Arbor market. Her life reflects a disciplined and focused routine, exactly the way she wants it. However, as her career takes off, the fulfillment she seeks remains inexplicably out of reach. The one thing she knows for sure, she will not join the Jack Gordon groupies in her company, no matter how tempting that might seem.
**************************************************************
Lily of the Valley (Flowering - Book #2) by Sarah Daltry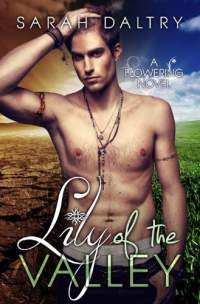 Jack's story isn't pretty. He's suicidal, depressed, and he uses meaningless sex and alcohol to survive. However, the story is about finding light in the darkness, but sometimes the road there isn't always easy to walk.
"No one tells you about pain. They tell you that it hurts, that sometimes it's consuming. What they don't tell you is that it's not the pain that can kill you. It's the uncomfortable numbness that follows, the weakness in your body when you realize your lungs may stop taking in air and you just can't exert enough energy to care. It's the way taste and color and smell fade from the world and all you're left with is a sepia print of misery. That's when the shift starts - the movement from passive to active. I fall asleep, hoping that the morning will bring back the pain. At least the pain is a thing."

I'm a plague, a cancer. My mom is dead - and my father is in prison for it. I survived high school because college was my way out. I needed to escape, to get away from my family and the people who tortured me, but it hasn't grown any easier.
I don't pretend that I'm a good person. I drink far more than I should, and I use my best friend, Alana, because together, we thrive on destroying each other - as well as the parts of us we hate. I don't believe in love, but sex is fun and it also makes me feel something.

The morning I see Lily, the beautiful princess who smells inexplicably like strawberries every time I see her, I realize I'm in trouble. I should hate her. I want to hate her, because the alternative terrifies me. However, as she continues to crash into my life (often literally), I can't avoid feeling something that is the one thing I swore I would never feel. I can't fall in love, because people like me don't live in a world where love saves anyone.

She just won't go away, though, and I don't know if I can keep running. The voices and the darkness hover over me and they threaten to bring me back to the safety of my hate, but the stupid scent of strawberries lingers on the horizon, as something like hope.
Reading Order Note: Forget Me Not, Lily of the Valley, and Blue Rose can be read in any order. There is some crossover in scenes, but each stands alone as one character's story. Star of Bethlehem is a direct continuation from Forget Me Not and Lily of the Valley. Orange Blossom and Ambrosia will assume readers have read the other four titles and read as sequels. In essence, the first three are #1, Star of Bethlehem is #1.5, Orange Blossom is #2, and Ambrosia is #3.