Always remember to double check the price on Amazon as the prices can change at any time.
**************************************************
Faster Deeper (Take Me - Book #2) by Colleen Masters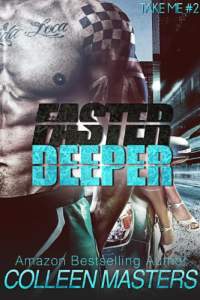 Fast Cars.
Beautiful Women.
Sexy Drivers.
Pain, Lies, Deceit, Tears, Violence, Anger, Blackmail, Passion, Love, Lust...
Sex.
Siena wants Harrison, needs him, more than anything in the world, but she's falling in love with a man she can't have--Not without losing everything and everyone she's ever loved.

Harrison's set his sights on Siena and nothing can stand in his way--He's going to get her, or die trying.

Amazon
*******************************************************
Summer Dreams by Hebby Roman
Ms. Roman has crafted a warm, wonderful romance with characters who stick with you long after you close the cover. Reading SUMMER DREAMS was like going home after a long, long time away. I can't wait for Ms. Roman's next Encanto romance.
Where else but in her beloved New Mexico would Natalia Colon want to spend a summer---preferably in the strong arms of her macho childhood friend, Esteban Montalvo. But when she arrives home, hurting from a broken engagement, Natalia discovers her childhood pal has become a minor league baseball player who has ambitions to make the big league; and with his dark, athletic good looks, is attracting women like bees to honey. She fears he'd never be interested in a bookish school teacher like her. But how wrong she is! Esteban has been secretly in love with Natalia from the time they were children, but he worries his love isn't good enough for her. Can he win Natalia's heart . . . with a soul-searing romance that fulfills all of her summer dreams.
Amazon
***************************************************
Stardust (Peaches Monroe - Book #1) by Mimi Strong
Peaches Monroe is a curvy blonde who manages a little bookstore, in a small town in Washington State.
She's twenty-two, and shares a house with her cousin, who's also her best friend.
Life is good for Peaches. Simple, but good. Sometimes she gets a little wild and goes drunk-shopping on the internet. She's never had a boyfriend, but that just leaves more time for her books.
Dalton Deangelo is a hot, young actor who sets ladies' hearts on fire. He shot to stardom from out of nowhere, and he's very secretive about his past, preferring to focus on his work. He's famous for playing the sexiest bad boy vampire on TV. Week after week, he's seen kissing beautiful, thin actresses ... or burying his face between their legs.
Now Dalton is in Beaverdale, Washington, to shoot an indie movie over the summer. He comes running into the bookstore looking for a place to hide from reporters, and refuses to leave until he gets a date with Peaches.
As soon as Peaches kisses Dalton, her quiet, small-town life begins to unravel. Peaches Monroe is launched toward the stars, beginning with a job in LA as a plus-size model for a
line of sexy underwear.
Her relationship with Dalton has its obstacles, and she finds herself entangled not just with Dalton, but with a passionate male underwear model named Keith Raven, as well as an old crush from her past, Adrian Storm.
Life has become anything but simple for Peaches Monroe. Will her summer end in a wedding? And if so, who will be the groom?
Amazon
*******************************************************
AMP Messenger by Stephen Arseneault
In a distant galaxy, Humans are on the run...
The first book in the
AMP
series. For a thousand years Man has fled from an enemy that is bent on his annihilation. The only real defense is his home, a great station called the Grid with a faster than light drive that is unmatched for speed. Don is a Messenger not a hero. But ordinary men sometimes have a way of rising to a challenge. War is coming and fate will place Don and his ship, a Blevin class Defender, smack in the middle of the fight. Is Man ready for the 43rd Milgari war? Don Grange doesn't think so!
Amazon
******************************************************
Castle Cay by Lee Hanson
When her best friend is murdered, Julie O'Hara, a body language expert, packs up her suspicion and flies to Boston for his funeral. Who could have killed rising artist Marc Solomon, and what does Castle Cay, the Solomon's mysterious Caribbean island, have to do with it? Before long, Julie's sixth-sense pulls a hidden string that unravels a deadly conspiracy...and her own troubled past.
Amazon
**************************************************
The Mystery Box by Eva Pohler
Soccer mom Yvette Palmer lives an ordinary life in San Antonio, Texas when a box is delivered to her by mistake, and in taking it to its rightful owner—a crotchety neighbor named Mona who shares her back fence—is drawn into a strange and haunting tale.
Mona's ratty robe, mood swings, and secretive behavior all raise red flags, and Yvette is sure someone else is living there despit Mona's claim to live alone, but Yvette is unable to break away as she listens to how Mona transformed from a young college woman about to be married to the odd, reclusive, ghost of a woman she is now.
As Yvette listens to her neighbor's tale, she discovers a shocking connection, but doesn't know whether Mona's come to help or to harm her and her family.
Amazon
***********************************************
The Trouble with Goodbye (Fairhope - Book #1) by Sarra Cannon
The trouble with goodbye is that sometimes it's about courage and sometimes it's about fear. And sometimes you're too broken to know the difference until it's too late.

Two years ago, Leigh Anne Davis shocked everyone in tiny Fairhope, Georgia when she broke up with her wealthy boyfriend to attend an Ivy League university a thousand miles away. At school, she finds a happiness and independence she's never known.

Until one terrifying night takes it all away from her.

With no place else to go, Leigh Anne heads home to reclaim her old life. A life she worked so hard to escape. On the outside, she seems like the same girl everyone has always known. But deep inside, she's hiding a terrible secret.

That's when she meets Knox Warner, a troubled newcomer to Fairhope. His eyes have the same haunted look she sees every day in the mirror, and when she's near him, the rest of the world fades away. But being with Knox would mean disappointing everyone all over again. If she wants to save what's left of her old life, she no choice but to say goodbye to him forever.

Only, the trouble with goodbye is that sometimes it's about courage and sometimes it's about fear. And sometimes you're too broken to know the difference until it's too late.

**Due to mature themes and some sexual content, this book is intended for ages 16+**

Each book in the Fairhope series stands alone, but has recurring characters. Read them in order to get the most out of this series and to see updates on each couple as the series progresses!


Fairhope Book 2, The Moment We Began, is available now!